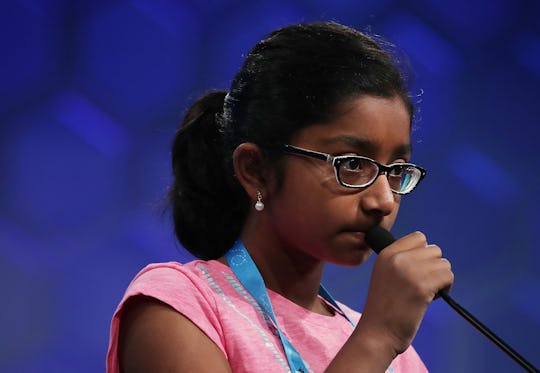 Alex Wong/Getty Images News/Getty Images
How Much Does The 2017 Scripps Spelling Bee Winner Get?
Participating in a televised national spelling bee may not be every kid's idea of fun, but for a select group of super spellers, it's a yearly opportunity to use their impressive talent to earn a pretty sweet payday. How much does the 2017 Scripps Spelling Bee winner get? The annual competition took place Thursday, and featured plenty of obscure words many adults had likely never even heard of. But 12-year-old California girl Ananya Vinay wasn't even slightly fazed — after 12 hours of competition (!) she managed to beat out all 14 other finalists to win more than $40,000 in cash and prizes, according to CNN. All in all, Ananya spelled 35 words correctly to clinch the title — her winning word was "marocain," a type of fabric — but that's not her only reason to brag. After three years of spelling bees ending in ties, Ananya also became the first solo winner.
The Scripps Spelling Bee might not seem like it'd be particularly exciting to watch, but there's something hugely intriguing about watching kids from all over the country show off their seemingly superhuman spelling prowess. This year, there were a number of talented participants who captured the public's attention, including Tulsa, Oklahoma girl Edith Fuller, who became the youngest ever Scripps competitor at only 6 years old. Edith didn't quite make the cut for finals — she was disqualified from the competition Wednesday based on the results of her written test — but the homeschooled spelling whiz still managed to correctly spell words like "nyctinasty" and "tapas" onstage, according to TIME. And if that weren't already enough to make you feel dumb, Edith was actually only 5 years old when she qualified for the event back in March.
Then there was Shourav Dasari, an eighth grader from Texas, who left the crowd in awe after pulling off the spelling bee equivalent of an epic mic drop. While the majority of contestants take their time spelling the words they are given — often asking for clarification in the way of definitions or word origin — when the judges asked Shourav to spell the word "mogollon," he quickly spat out the correct answer and promptly returned to his seat without missing a beat. Shourav was ultimately eliminated after 10 rounds, after incorrectly spelling the word "struldbrug," according to USA Today, but the fact that his performance basically won the internet must have at least been a pretty cool consolation prize.
Ananya's closest competitor in the spelling bee was 14-year-old Rohan Rajeev, a Texas eighth grader who went head-to-head with the champ for nearly 20 grueling rounds, according to CNN, before he was eliminated for misspelling "marram," a type of grass. Ananya then spelled two more words correctly to win the competition, and managed to remain surprisingly composed during the confetti-filled celebration that followed onstage — even taking a moment to console Rohan after his loss, according to The Guardian.
Ananya's father and brother joined her onstage as she was given her trophy, and when asked how she felt after winning, she replied, "It's like a dream come true. I'm so happy right now." As for what she intends to do with her winnings? Reuters reports that she "plans to split the money with her 7-year-old brother and put it in to her college account."
There's really nothing quite like the Scripps Spelling Bee to make you keenly aware of how paltry so many of us are in comparison (Ananya would no doubt find the number of words I misspelled while writing this article totally embarrassing), but it's also majorly impressive to see so many kids totally owning such a difficult skill.
As for any parents out there looking to encourage their kids to become the next Scripps champion? Well, the truth is that a lot of it is likely just pure talent. But a love of books definitely helps: when asked about her success, Ananya's father, Vinay Sreekumar said his daughter "had a deep passion for reading," according to Reuters. Next year, Ananya will be back for the Scripps Spelling Bee, but it will be a much less stressful performance: she'll be the one presenting the trophy to the new winner.