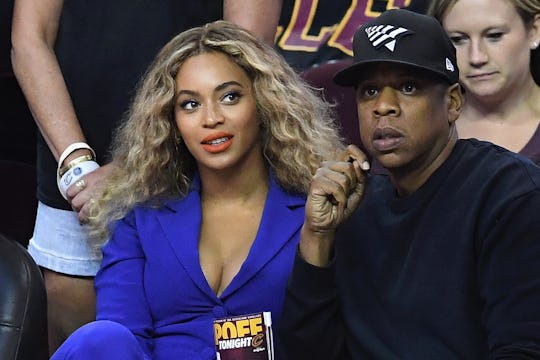 Jason Miller/Getty Images Sport/Getty Images
Beyonce & JAY-Z's Car Seat Of Choice Could Cost You This Much
I might never become a celebrity, and that is a little hard for me to write. I will never have the glitz, glamour, fame, or fortune associated with being a celebrity, and that kind of stinks. But what people, like myself, who will always be chasing after that, can do is buy the same things that celebrities have — which is close enough to the real thing. This week, Beyoncé and JAY-Z's car seat of choice, the Nuna PIPA, was made public during a recent outing. And surely some parents will want to know how much the Nuna PIPA car seat costs, so they too, can pretend to live that lavish lifestyle.
During a trip to New York City on Wednesday, Beyoncé, JAY-Z, Blue Ivy and their newborn twins — Rumi and Sir — were spotted for the first time walking out of an SUV at a heliport (a scenario a lot of people are not familiar with). But in the hands of Beyoncé and JAY-Z were their twins, sitting in their own car seats. Us Weekly then confirmed from the photos that the carseats were the Nuna PIPA car seat.
The car seats did an amazing job at hiding the twins' faces from the world (darn it) and protecting them at the same time — and it can also be your preferred car seat for the cost of $299.95.
The PIPA car seat is available to purchase online at your favorite high end retailers — like Bloomingdales, Nordstrom, and Neiman Marcus. If black is not your preferred color choice for your kid's car seat, the PIPA comes in six other colors: blackberry, sand, indigo, berry, graphite, and jett. For the penny pinchers out there who still want to have the same car seat as Beyoncé and JAY-Z, Albee Baby has the car seat on sale in the color blackberry for $229.95. No need to thank me. You're welcome.
While this car seat does come with a higher price tag, think about how there is no price when it comes to protecting your child. There is a reason why Beyoncé and JAY-Z are using the car seat — and it could be because it has excellent ratings from Consumer Reports. The rating is based on the fact that the car seat provides "an additional margin of safety in the event of a crash" due to the seat's "load leg design," according to Us Weekly. Talk about leaving your kid "flawless" in the event of an accident (see what I did there?). Carseat Blog also gave the car seat an "excellent" rating due to it being "everything you could ask for in a high end car seat." Sounds like a good deal to me.
In addition to the safety features, the car seat itself has some other pretty impressive features — like a five second install time, side impact protection, and a mesh peekaboo window so your baby can see the world around them while they're being covered up. The Nuna website perfectly describes the PIPA better than I ever could, stating:
Style and safety should never have to be sacrificed. Thanks to our clever and fashionable infant car seat the PIPA, both of these essentials are combined; providing ultimate comfort and protection for little lives, every which way you may decide to take them in.
While your kid may never grow up living the fabulous life of Rumi and Sir, they can be transported to and from your errands like the most famous celebrity twin newborns around. If Beyoncé approves, then she is definitely "upgrading" fans car seats in the right direction. Sure it might be costly, but owning the same items as your favorite celebrities (especially Queen Bey) is so worth it.