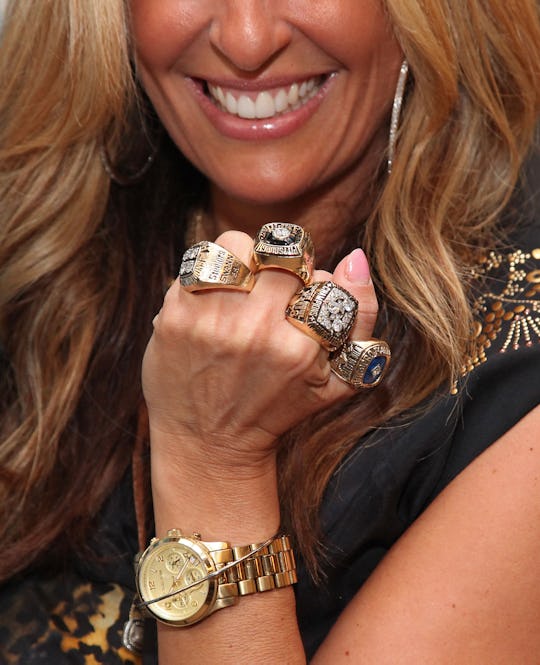 Rob Kim/Getty Images Entertainment/Getty Images
How Much The Super Bowl Ring Costs
While it probably makes your head spin to consider the staggering amount of money that goes into all the Super Bowl shenanigans, from the ad placements to the coverage to the hundreds of thousands of mini hot dogs that will be consumed tonight, there is one price point that will be on everyone's mind at the end of the night: how much the Super Bowl ring costs. It's a legit question, because when you consider just how many of them are going to be distributed, the cost sure adds up — the NFL pays for a whopping 150 rings for the winning team, rings that are generally made with expensive materials like gold and diamonds.
According to ESPN, the 2015 Patriots Super Bowl rings cost $36,500 to make, for a total of $5.475 million. And while the price of the 2016 Broncos Super Bowl ring is unknown, it was safe to assume it was pretty steep; according to CBS sports, each ring included 212 diamonds in it. Reports say that the value of the Super Bowl ring is steadily going up, so whoever wins the Super Bowl tonight may have an even swankier version. That's some pretty legit hardware to flash out on the town if you happen to be one of the 150 people who have the honor of receiving one, which generally includes the team members and team staff.
That being said, the cost of these rings is relative to the material that was used to make them. In resale, they are typically "worth" much more, based on their rarity; Jostens, the company that typically makes the Super Bowl rings, only makes 150 of them each year, so the rarity ups their value. While it's kind of a bummer to think of athletes selling off something that was so hard to come by, occasionally athletes will sell memorabilia for financial reasons. On a happier note, though, teams have also auctioned extra Super Bowl rings out for charity in the past. For perspective on resell worth, former Raiders punter Ray Guy's Super Bowl ring sold for $96,126 at auction in 2011; New York Giants Lawrence Taylor's 1991 ring sold for $230,401, according to reports.
That being said, I imagine there aren't too many players wondering what the resale value of their rings are if they can help it — although Super Bowl wins aren't always a once in a lifetime thing for some players, they sure are hard won.