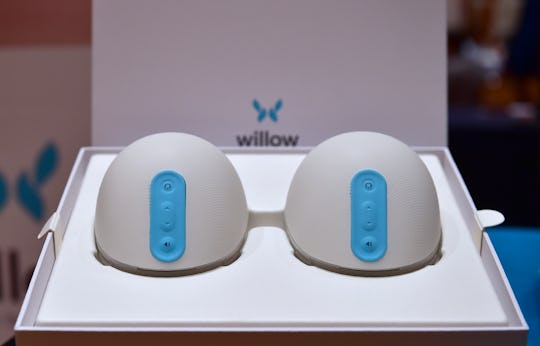 FREDERIC J. BROWN/AFP/Getty Images
The Willow Pump's Cost Is All About Convenience
The future of breast pumping is here. Well, at least it will be here this spring. The Willow Breast Pump is a "smart" gadget that slips into a mom's nursing bra and makes the whole breast milk collection a whole lot easier and less messy. The Willow reveal happened recently at the Consumer Electronics Show and left moms and those that love them holding fist-fulls of cash and begging Willow to take it in return for this genius breast pump reinvention. How much does the Willow Breast Pump cost? It's not cheap.
First, the super positive features of the new breast pump, according to the Willow site. You slip two teardrop-shaped gadgets into your nursing bra and through the magic of technology it senses when its time to pump and does it quietly and automatically while you go about your business, without tubes or bottles dangling off of you..
Then the milk is stored in donut-shaped disposable bags so it's ready whenever your baby is, according to Willow. The genius is that the Willow frees moms from having to hunt down a private place to whip out her breasts and hook up to a traditional breast pump, which are loud, painful, and unwieldy. Willow also hooks up to a smartphone app that tracks milk production. And when you're done, you can throw it in the dishwasher for quick and easy cleanup.
Genius.
"We knew we could just reinvent the breast pump, we had to reimagine it," Willow's CEO Naomi Kellman told CNET. "Women want mobility and they want their hands back. The Willow cuts the cords and gets rid of dangling bottles for good."
But all that convenience comes at a fairly steep price point. Once the unit goes on sale in the spring, it's going to retail for $429, CNET reported. Each individual single-use donut-shaped storage bag will cost about 50 cents a piece, CNET added. If you're pumping 6 times a day, add $21 per week to the cost of the unit itself. Willow has not yet responded to Romper's request for comment about the new breast pump.
But there is good news. While insurance doesn't usually cover the cost of baby accessories, no matter how critical, the IRS announced in 2011 that new mothers can use money deferred into a Flexible Spending Account to purchase a breast pump, according to Forbes. The change was a huge victory for working mothers who are faced with all sorts of challenges trying to juggle feeding their hungry baby and earning a living at the same time. Now expectant moms can start saving even before their due date to buy a Willow of their own.
According to HealthCare.gov, the Affordable Care Act, also known as "Obamacare" mandates that insurance companies provide "breastfeeding support, counseling, and equipment for the duration of breastfeeding." In addition, plans have to cover the cost of a breast pump, but there's no indication yet on whether the cost of the Willow would be covered since it's so new.
Federal law requires employers to offer breaks for mothers to express breast milk, according to the Department of Labor. But the Willow could eliminate the need for those breaks, since it's automatic and can be worn under clothes. Maybe there's an opportunity to convince employers to help subsidize the cost through added benefits or insurance coverage to boost productivity.
Now that breast pumps are being re-imagined by innovators like those behind Willow to make breast feeding just a little easier and mobile, it's important to offer working mothers every opportunity to access these tools at an affordable price. Feeding an infant is hard. And it's nice to see technology working on behalf of tired moms and their babies. The next challenge is making them affordable to as many new mothers as possible.