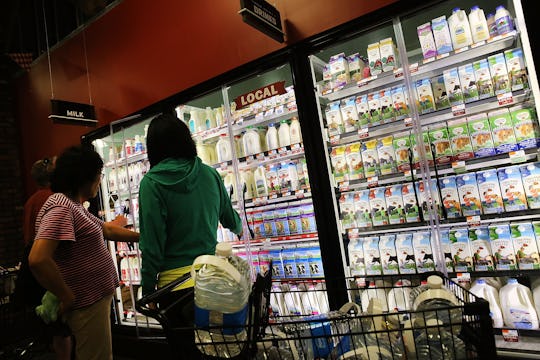 Spencer Platt/Getty Images News/Getty Images
Here's How Much WIC Really Costs Taxpayers
With President Donald Trump's proposed budget for fiscal year 2018 still on the table, the possibility of any merit to what the new president has suggested is still up in the air. While large cuts to many programs have been highly contested, Trump's suggestion of a 21 percent cut to the Department of Agriculture hasn't really been addressed as much as some of the larger cuts (and increases) he's mentioned. However, as cuts to the Agriculture department would mean a major slash to the Special Supplemental Nutrition Program for Women, Infants, and Children (WIC) program as well, many are wondering, how much does WIC cost each American, anyway?
Well, the answer is a bit more complicated than the question might suggest. As a federal government program, WIC gets its funding from a variety of resources. According to the National WIC Association, WIC is "funded annually through the appropriations committee process by grants to each state." However, these grants do come from somewhere, and American taxpayers are providing some of the funds for WIC and the services they provide. According to CNNMoney, the average American paid $13,000 in income taxes during 2015. Of that chunk, it is estimated that only "$598.74 (or 4.6%)" went toward food and agriculture, the category in which WIC resides.
As not even 5 percent of Americans' taxes goes toward funding the department which the WIC program calls home, it becomes even harder to understand why the Trump administration feels the need to cut so much funding from it.
While many conservatives are of the mindset that WIC is basically just handing out money fruitlessly, the Department of Agriculture puts those fears to rest, stating on its official site,
Children have always been the largest category of WIC participants. Of the 8.0 million people who received WIC benefits each month in FY 2015, approximately 4.16 million were children, 1.94 million were infants, and 1.92 million were women.
WIC also helps to "safeguard the health of low-income women, infants, and children up to age five who are at nutrition risk by providing nutritious foods to supplement diets, information on healthy eating, and referrals to health care." For even more information on how WIC receives funding, check out this nifty flow chart.
As so many Americans use WIC, it's clear that this is a necessary program in the country, and that it probably needs all the funding it can get. However, the Trump administration has made it abundantly clear that "draining the swamp" means something very different than what most people originally thought. And, for now, until Congress approves or rejects Trump's budget, America will be forced to wait and see whether WIC and other vital government services are part of the "swamp" that needs "draining."