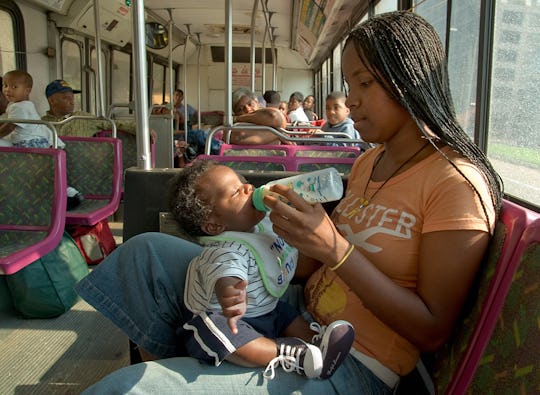 AFP/AFP/Getty Images
How Much Formula Should You Pack In An Evacuation? You Have To Be Prepared
An evacuation due to extreme and dangerous weather, like Hurricane Matthew this week, is always inconvenient and stressful. It's even more stressful when you have to worry about how much formula to pack in an evacuation for your infant. As if feeding and caring for a newborn wasn't already a major stressor, uprooting your family and trying to pack for an unknown amount of time can make a new parent's head explode. Making things even more complicated is that mandatory evacuations in Florida and South Carolina are now in effect as of Wednesday afternoon, but the hurricane isn't expected to hit for another day or two. After that, the area will brace for a storm surge, so no one is certain for how long families will have to be displaced.
A good rule of thumb is to pack too much baby formula as many Florida and South Carolina area grocery stores and markets are already cleared out and closed. Health experts say that a newborn should have about 2 to 2½ ounces of formula per pound of body weight in a 24-hour period. So, do the math: a 10-pound infant needs about up to 25 ounces of formula a day. The March of Dimes recommends using ready-made formula in single serving cans in case the water becomes contaminated in a disaster; Depending on where your family is headed and how serious the surge is, it's definitely something to consider.
This is one of the largest evacuations ever for the region since Hurricane Andrew, so it's not to be taken lightly. But that also means that some people may be freaking out or taking advantage of customers in a storm. If you run into crazy expensive formula (like it's not already super pricey), there are ways to report retailers for being huge jerks. Florida is already warning people to watch out for price gauging of necessary items.
Gov. Rick Scott in Florida said in a statement that residents should plan on a direct hit and that they have "less than 24 hours to prepare, evacuate and shelter. Having a plan in place could mean the difference between life and death."
In South Carolina, Gov. Nikki Haley is taking it a little bit slower to avoid panic and congestion. Haley said, "It's not going to be a fast evacuation," she said. "If you can leave early, do that. The goal is to not leave all at once." Then again, she stressed that this storm is to be taken seriously. Haley warned, "We've been through winter storms and a 1,000-year flood, so I don't want anybody to look at any of the last few tragedies that we have gone through and think this is similar. A hurricane is different. Storm surges are nothing to mess with."
Storm surges and feeding your infant are both nothing to mess with. Pack a little more than you think you need and if you find yourself in low supply, reach out to an evacuation center in the area for some support. However you decide to plan, do it carefully. But have a plan.