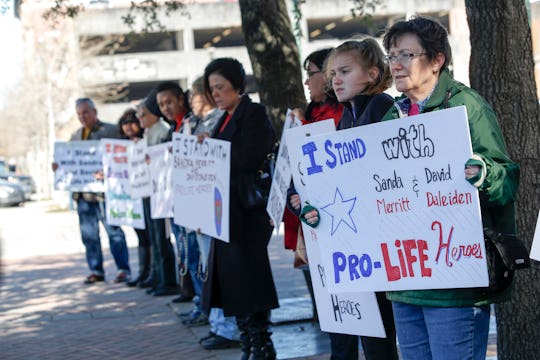 Eric Kayne/Getty Images News/Getty Images
Here's How Much Federal Money Goes To Abortions
To anti-abortion activists, Planned Parenthood is Enemy No. 1. The women's health services provider has long been only associated with providing abortions, despite the fact that it offers services that have absolutely nothing to do with abortions, including providing pap smears and STD tests. Now, the GOP is threatening to strip Planned Parenthood of its federal funding. So how much funding does Planned Parenthood get for abortions, anyway?
In the plan to repeal the Affordable Care Act, Planned Parenthood will also be defunded. "Planned Parenthood legislation would be in our reconciliation bill," House Speaker Paul Ryan said Thursday at a press conference, The Hill reported.
But defunding Planned Parenthood won't impact federal funding for abortions. That's because, for more than 40 years, federal funding has been blocked from being used for abortion services thanks to the Hyde Amendment.
What this means is that defunding Planned Parenthood doesn't stop any abortions. The majority of Planned Parenthood's funding goes to STD testing and treatment, as well as for providing contraceptives. These two things make up about 70 percent of the services women are looking for Planned Parenthood to provide. Defunding Planned Parenthood means a woman who wants birth control (so she won't have to have an abortion) or who wants to be tested for an STD after a condom breaks, can no longer rely on Medicaid to cover these costs.
Medicaid makes up 75 percent of Planned Parenthood's federal funding, NPR reported — the rest comes from the Title X Family Funding Program. That makes sense because the majority of women who rely on Planned Parenthood — 79 percent — are below the federal poverty line.
Meanwhile, just 3 percent of the services provided by Planned Parenthood are abortions — which Medicaid never covered in the first place (because of the Hyde Amendment).
According to Planned Parenthood, the abortion pill can cost up to $800, which many women pay for out-of-pocket. The average abortion cost $470 in 2009, reproductive rights organization Guttmacher Institution reported. Fewer than 20 states offer funding for abortions, according to the Kaiser Family Foundation.
Defunding Planned Parenthood as a way to stop abortions not only makes no sense, it could have serious repercussions for the health of women everywhere.
Just look at Texas: Many clinics in the state shut down after federal funding to Planned Parenthood and other abortion providers was cut off, making access to contraceptives and health services more limited. Nearly half of 300 pregnant women surveyed said they were "unable to access the birth control that they wanted to use," Mother Jones reported. And in the clinics that do remain open, annual gynecological exams that used to be free or close to it now cost $100.
Sarah Wheat, vice president for community affairs at Greater Texas' Planned Parenthood, told Mother Jones that women go to the doctor less often when it costs more:
We'll have patients who, if they had a high gas bill that month, or a high electricity bill, they'll think, 'Okay, well maybe next month I can go in.' Or they're going to say, 'Let me just get the gonorrhea test. I'll pay for the chlamydia test next time.'
And of course, having less access to contraceptives means unintended pregnancies increase, and those unplanned pregnancies costs taxpayers $21 billion a year.
In a press statement, Cecile Richards, President of Planned Parenthood Action Fund, said that defunding Planned Parenthood is "dangerous to people's health."
Two and a half million women, men and young people come through our doors every year for lifesaving care like cancer screenings, birth control, and STI and STD tests, and they cannot afford to have basic reproductive health care attacked.
Putting women's health at risk to put a stop to abortions doesn't sound very "pro-life," but maybe that's just me.