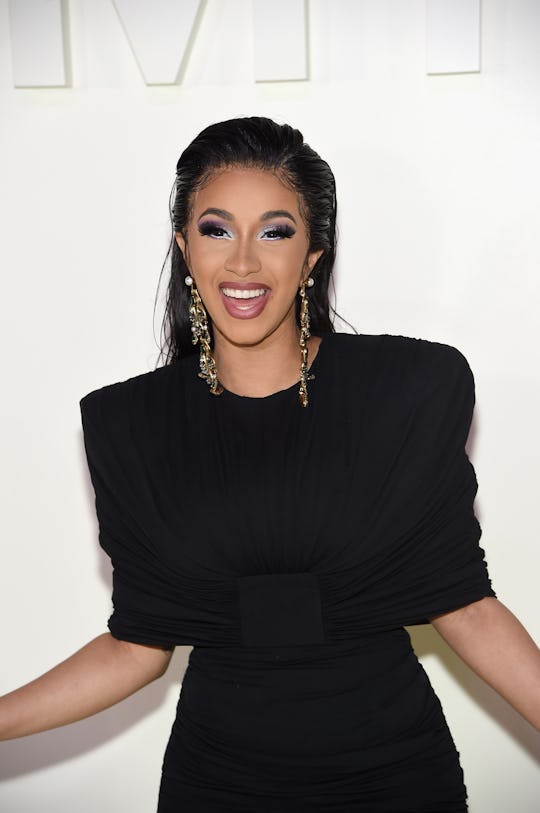 Jamie McCarthy/Getty Images Entertainment/Getty Images
Cardi B's Stroller For Baby Kulture Is Gorgeous, But Its Price Tag Will Def Hurt Your Wallet
When you're the child of rap royalty, you can rest assured that every detail of your small life will be as luxe and glamorous as possible. It's fascinating to hear about how celebrities spoil their kids, spending thousands (if not more) on simple items that their children will grow out of their use for pretty quickly. Regardless, when a mega star as a baby, fans are often curious what kind of intricate luxuries they are receiving before they can even walk. One such thing to make headlines lately is this: How much is Cardi B's stroller for Kulture? Reports are saying her favorite designer gifted her one that's popular among the Hollywood elite.
Kulture Kiari Cephus, Cardi's daughter with Offset, is reportedly being toted around with some serious style as she received a pink stroller and carrycot from Moschino fashion designer Jeremy Scott, according to BET. The stroller is estimated to be worth more than $1,000 — specifically, $1,699. Mindy Kaling has also been seen carrying her daughter Katherine in the same one, as People noted.
On Sunday, Cardi showed off her baby's gold-plated designer wheels with a photo of herself pushing the stroller backstage at a concert. "We came to see Poppa Bear," she wrote in the caption. Immediately, fans started raving about the design: "LOOVVEEEE THAT STROLLER," one comment read. "Cardi b send me [a stroller] I'm about to pop out my baby girl any day now! Lolz looking good as always!"
This is also not the first time Cardi has been seen showing off her baby's wheels on Instagram. Back in August, she posted a photo of herself holding her daughter in her carrycot, which is the part of the stroller or car seat that the baby lays in. In the photo, fans can see that the top of it is not only pink, but covered in drawings of angels. "My arm really hurting thoo," Cardi joked in the caption.
Despite all the glamour, Cardi understands that, ultimately, it's not the quality of your material possessions but how active and present you are in your child's life that really counts. After Cardi delivered Kulture, Vulture reported that she announced she wouldn't be going on tour with Bruno Mars as she had previously planned, telling fans that she simply needed more time to recover (which is very, very valid).
Later, she took to her Instagram stories to explain more about what she had been going through as a new mom. As People reported, she explained why she's committed to taking care of her child, and why she didn't want to immediately hire a nanny and get back on the road. "I can't leave my baby at night, not for one second," she explained. "A lot of people keep telling me, 'You need to find a nanny because you gotta start working soon,' and it's so hard because I want to be with my baby every second."
Cardi continued: "I didn't [think] that it would take so long for my body to heal. I thought six weeks was going to be good enough — no, bro. My a** is broken. This baby broke my a**."
Be that as it is, Cardi is still just as committed to her career, which she reminded fans during her speech after she won Best New Artist at the MTV Video Music Awards. As Marie Claire reported, she said: "A couple of months ago, a lot of people were saying 'you know, you're gambling your career. You're about to have a baby. What are you doing?' And you know, I had a baby, I carried the baby, and now I'm still winning awards!"
It seems Cardi and her family are adjusting really well to life as a party of three... shows, awards, glamorous baby strollers and all.