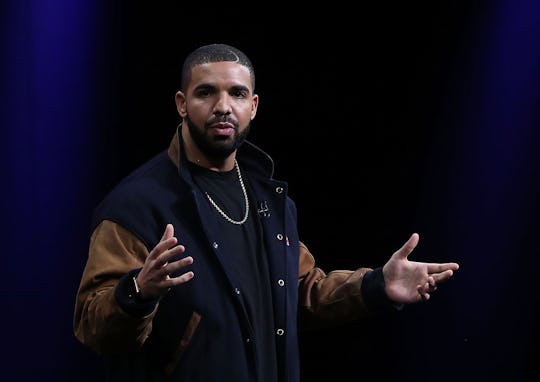 Justin Sullivan/Getty Images News/Getty Images
How Much Is Drake's 'Views'? You Can Get It On iTunes Right Now
Drake fans are officially all fired up for summer now that his new album, Views is finally here, jam-packed with special guests and future hits. After just a handful of days, Views is officially blowing up. Like Lemonade-sized sales. Yep, Views sold about 600,000 downloads in just 24 hours after its release. So how much is Drake's Views? You've got to download the whole thing for $13.99 on iTunes.
It's rumored Drake signed an exclusive deal with Apple Music for $19 million, which would explain why Views is an Apple exclusive. But Forbes confirmed Views will eventually be available on other platforms and speculates that $19 million seems like an inflated number for a deal between Drake and Apple. But the Apple Music exclusive on Views, even for the first week, indicates there's some sort of cooperation. You can pre-order Views on Amazon for a discounted $12.94, and it will be available on Spotify and other streaming services, in addition to Apple, starting May 6.
Views was one of the most highly anticipated albums of the year. Fans were dying to know when they were going to get the album that was originally rumored to be titled, Views From The 6, a nod to Drake's often name checked hometown of Toronto.
Drake gave us all a little taste last fall with the release of the single "Hotline Bling" from Views, and fans went wild. Incidentally, "Hotline Bling" and "One Dance" featuring Wizkid and Kyla, are the only singles from Views that you can download as stand alone tracks for $1.29. If you want any of the other songs from the album, you've got to spend the whole $13.99.
Drake's success, along with Lemonade's ground breaking and glass ceiling-shattering release, show just how much the music business is changing. Beyoncé set up her husband's music streaming service to score a big victory by offering her new album Lemonade exclusively on TIDAL the moment her jaw-dropping visual album aired on HBO. In its debut week alone, Lemonade had more than 115 million streams on TIDAL. Lemonade was released days later across other streaming services.
Drake's approach is a variation on the Knowles-Carter model. Fans knew Drake would be coming out with an album, but streaming exclusivity and selling the songs as a complete album are a departure from the standard model too. And while details about Drake's deal with Apple are only rumors, Music Business Worldwide reported that Drake's "Hotline Bling" video was paid for by Apple.
So will this be the new way for artists to earn a living? Will every big album come with it's own streaming corporate sponsor? Will these online music services replace the idea of music labels as they used to be? This new arrangement will certainly put artists back in a position of negotiating power. Despite Drake's release of Views on Apple, his old catalog keeps him in the top-10 artists on Spotify, according to Business Music. With TIDAL locking up just about every artist except Drake, and Drake looking more like he's moving toward being all-in for Apple, where will that leave competing music services? And what about smaller artists without their own streaming deals? Will they be able to get their music heard?
Music fans will have to wait and see. But as long as Drake, Queen Bey, and other artists continue to put out exciting entertainment, you can bet fans will follow with fistfuls of dollars begging music services to take their money.