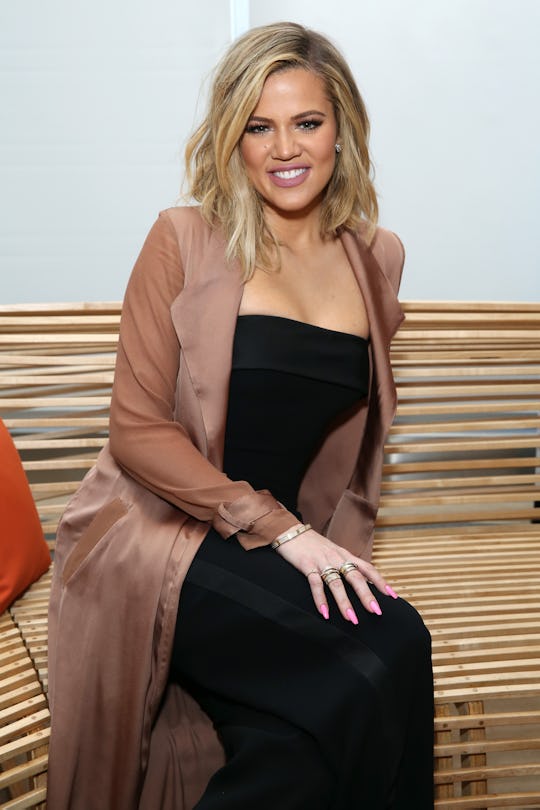 Cindy Ord/Getty Images Entertainment/Getty Images
Khloé Kardashian Is Wearing Some Pricey-Looking Bling On *That* Finger
On Wednesday, Khloé Kardashian shocked the world — in more than one way. Not only did she reveal her pregnancy with partner Tristan Thompson on Instagram, but she rocked some pretty hefty jewels on a certain finger in her announcement picture. She hasn't shared whether she and Thompson are engaged or married (or neither!), but fans have all sorts of questions. First of, woah... just how much is Khloé Kardashian's ring worth?
According to Hollywood Life, Kardashian has worn the two diamond rings pictured in her Instagram shot before: she shared a picture back in October of her and Thompson's hands together, and in it, she was wearing what looked to be the same two rings. Similar ring pictures have shown up on her Snapchat, as well. According to TMZ, actually, she's been wearing the rings for more than a year now.
No one has managed to identify what brand the rings are yet, but if they're anything like Kardashian's last engagement ring (from her previous relationship with Lamar Odom), the two rings are likely worth a pretty penny. Estimates put the value of Kardashian's last engagement ring at an whopping $850,000, according to Forbes, so I'm willing to guess her current rings are also on the expensive side.
Kardashian and Thompson also already have a history of giving each other expensive jewelry. In August, Kardashian showed off a fairly extravagant gift from Thompson: an Armenian gold necklace covered in diamonds, according to Hollywood Life. And according to Cavs Nation, Kardashian gave Thompson an $85,000 watch of his own for Christmas last year, so the couple clearly has a pretty healthy budget for their jewelry.
In fact, the Kardashians as a whole have a habit of ending up with expensive rings on their fingers. According to Us Weekly, sister Kim Kardashian's engagement ring was 20 carats and worth a steep $4 million, and Scott Disick reportedly proposed to Kourtney Kardashian with a Lorraine Schwartz ring once upon a time.
On Wednesday, however, Kardashian remained mum about the rings on her finger, so it seems like we'll all need to wait a little while longer to find out more about the bling. Even if it turns out to not be an engagement or a wedding ring, fans are now definitely curious about the jewelry, so hopefully Kardashian will share more information soon.
But, what is clear, is that Kardashian and Thompson are so obviously thrilled to welcome their bundle of joy. In Kardashian's pregnancy announcement, she penned a heartfelt message to Thompson, writing:
My greatest dream realized! We are having a baby! I had been waiting and wondering but God had a plan all along. He knew what He was doing. I simply had to trust in Him and be patient. I still at times can't believe that our love created life! Tristan, thank you for loving me the way that you do! Thank you for treating me like a Queen! Thank you for making me feel beautiful at all stages! Tristan, most of all, Thank you for making me a MOMMY!!!
She went on thank her beau for making her pregnancy experience "even more magical than I could have envisioned!" She added, "I will never forget how wonderful you've been to me during this time! Thank you for making me so happy my love!"
Kardashian also took a moment to thank her fans for all "the love and positive vibes" while she was keeping quiet about the exciting news. "We wanted to enjoy this between our family and close friends as long as we could privately," she wrote. "Thank you all for understanding. I am so thankful, excited, nervous, eager, overjoyed and scared all in one! But it's the best bundle of feelings I've ever felt in my life!"
Although Kardashian didn't dish about every detail in her announcement photo, including her gorgeous rings, fans can rest easy now that all those rumors are finally a thing of the past.
Check out Romper's new video series, Romper's Doula Diaries:
Watch full episodes of Romper's Doula Diaries on Facebook Watch.