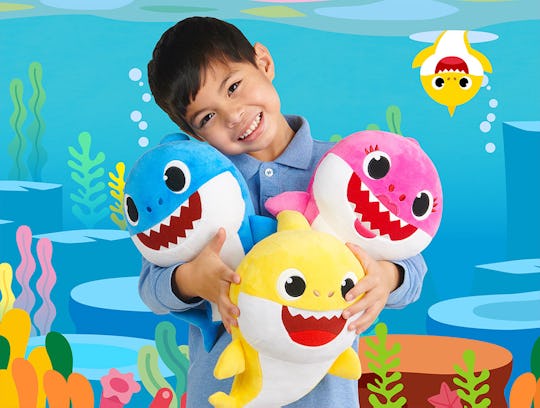 Courtesy of WowWee
The Singing Baby Shark Toy's Affordable Price Is Probs Why It Sold Out So Fast
There's always one toy that every kid wants for Christmas. Last year, the little monsters were obsessed Fingerlings, and you couldn't walk through a school without seeing miniature monkeys hanging on every kid's pointer finger for months. The year before that, Hatchimals were all the rage, which is why you spent all of Christmas morning staring at an egg. And in 2018, kids are itching for a Pinkfong Baby Shark by WowWee, a stuffed animal that sings the baby shark song. They're selling like hotcakes, which has me wondering how much the baby shark toy actually costs.
Quick background on the toy: most people know the classic song about baby sharks, which has been sung at camp sing-alongs and daycares since before I was in diapers. The tune had a renaissance this year after Korean-based Pinkfong released sing-along baby shark videos online, and families started posting baby shark challenge videos, i.e. clips of their kids singing the song and doing the accompanying dance (I love this one of a toddler trying to get Alexa to play the song). Kids everywhere are obsessed, so when the news broke that a stuffed animal shark that sings the song when you squeeze it was coming out this week, parents moved fast. And props to you if you were one of them, because the toy completely sold out in just 3 days, according to USA Today.
Pinkfong had absolutely no baby shark toys left just days after the stuffed animals went on sale, so ya snooze ya lose, I guess. You can still preorder them on Amazon via retailers who are reselling the toys at increased prices, a la Dwight with the Princess Unicorn dolls on season five of the office, but the prices will be much higher. According to Delish, the sharks originally sold for $17 and the singing cubes, which have the face of the shark but no tail, were $8, but those affordable options are long gone. It looks like the average price from third-party sellers on Amazon is now $99 for sharks and between $55 and $69 for the cubes, at the time of posting, and that's just for pre-order. Even worse, those are the lower price options I found; I saw a mommy shark selling for $199, even though it won't arrive for weeks.
My wallet is saying yikes right now, but there is some good news about these singing predators. You can order the Korean version of the product at the slightly more affordable price of $45, so if your family speaks Korean, or is interested in learning, you're in luck. And you and your little ones can still listen to the song online, so it's not like your kids will be totally shark deprived if you can't make the toy happen for them by Christmas.
The prices will also probably drop again after the holidays are over, or at least when the second shipment hits Amazon and since it seems like the fad is here to stay for a bit, your kiddos will probably still be happy with a shark for their birthday in February. If you still need some present inspo, check out Romper's Toy Box, and maybe see it as a gift in disguise that you won't have to hear that freakin' song all day on Christmas.
This first-time mom wants to have a home birth, but is she ready? Watch how a doula supports a military mom who's determined to have a home birth in Episode One of Romper's Doula Diaries, Season Two, below. Visit Bustle Digital Group's YouTube page for the next three episodes, launching Mondays in December.