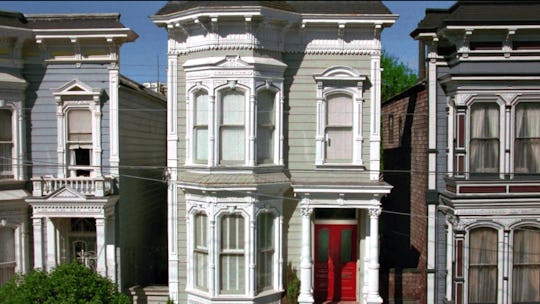 Netflix
How Much Is The 'Full House' House Worth Now? It's A Seller's Market, That's For Sure
A beloved television staple of the '90s — Full House — is back in the news once more with the premiere of Fuller House, the reunion and spin-off that fans have ben waiting over 20 years to see. The Full House opening credits are a classic, something that's hard to forget — especially that brightly colored row of stunning Victorian homes known as the Painted Ladies. It got us thinking — with over twenty years of improvements and updates, just how much is the Full House house worth now?
First, let's get the record straight on exactly where the Full House house is located. The show itself was filmed on a soundstage at Warner Brothers Studios in Burbank, California. But the show used an actual house in San Francisco for exterior shots of the Tanner family home. Although you might think it's one of those Painted Ladies bordering Alamo Square, it's not. The house with the red door used in the opening of Full House and in the Fuller House teaser trailer is actually 1709 Broderick Street: It's a 2,500 sq. ft. two-story Victorian built in 1900 with three bedrooms and three bathrooms. And yes — the Full House house has its own Yelp page.
Here's 1709 Broderick Street on Google Maps, as of February 2015. While the colors are certainly different, a keen eye will notice that the distinctive Victorian trimming over the second story bay window is a match. There's no denying it — This is home sweet Full House:
Now, about that price. Home prices in San Francisco have been climbing to almost unaffordable levels in recent years, thanks to the startup tech boom that made San Francisco it's unofficial capital. According to national housing analysts and experts, San Francisco is facing another housing bubble, in a San Francisco Business Times piece from late 2015. "What ever happened to predictability?" the wannabe Joe Crocker voice sings in the opening of Full House. Well, housing bubbles are pretty predictable: Prices rise, inventory shrinks, and before you know it — something's bound to pop.
That said, according to public records, the Full House house sold in 1990 for $725,000 — just two years after Full House began airing. The house then went up for sale again in 2006 and sold for a whopping $1,850,000 — not too shabby. According to Trulia, the Full House house could sell for $2.3 million. Realtor.com gives the price a bump, estimating the Full House house is worth closer to $2.6 million. Zillow, on the other hand, estimates that 1709 Broderick Street is worth $3.4 million.
While the house isn't currently on the market, I'm sure if you showed up with a $4 million check the owners of the Full House house would be more than happy to entertain the notion of selling a television classic to the right buyer.