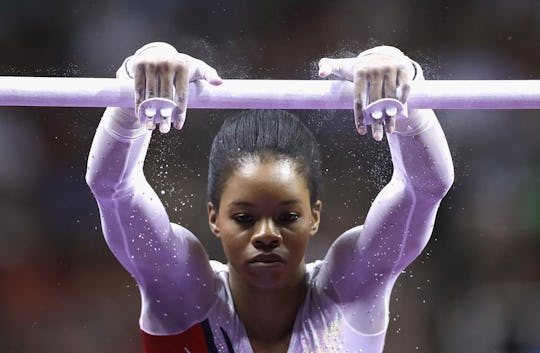 Ronald Martinez/Getty Images Sport/Getty Images
How Much Is The Gabby Douglas Barbie? It's A Collector's Item
For someone so young, Gabby Douglas is no stranger to making history. She is the reigning Olympic gymnastics all-around champion, she is the first one to return for a second Olympics since the 1980s, and now, she's got her own Barbie. Mattel announced the look-alike doll last week, and fans are clamoring to get one of their own. So, how much is the Gabby Douglas Barbie?
Unfortunately, Mattel has not released how much the Gabby Douglas doll will cost — it's not available for purchase or pre-order on their site. The doll is the latest in the company's "Shero" series, which honors women who have pushed boundaries and expectations in their respective fields. Ballet star Misty Copeland, director Ava DuVernay, singer Trisha Yearwood, and CEO Eva Chen have also been made into dolls, but not all of them are available for purchase, according to NBC News. Some were limited edition items, only available at charity auctions. Most likely, the Gabby Douglas doll will be made available to the public, but Mattel has not given any indication of when that will be. With the Olympics on the horizon, it may be soon.
It's no wonder the Gabby Douglas item is such a hot commodity. Setting aside that Douglas is an amazing, inspiring person, the doll's design is great. It has joints in its arms and legs so that it can do the gymnastics moves Douglas is famous for. She comes with a leotard and a tiny warm-up suit.
Even though some may say it's "just a doll" (who would say such things!), Douglas is not taking the honor lightly. In typical indomitable fashion, she is using the opportunity as further motivation. In a Mattel press release, she said, "I love a challenge. I love to push limits and I love that my very own Barbie celebrates me for being a role model to girls. Being honored as a Barbie Shero further motivates me to inspire girls by being the best I can be."
The honor has personal meaning for Douglas, too. In an interview with People, she didn't hold back her excitement about being made into a Barbie. She said, "I'm so excited. My older sister and I used to play with Barbies and create these dramatic fantasy stories, so it's such a huge honor."
Mattel also interviewed Douglas about the announcement, and she admitted she was "speechless." She said she "never would've thought in a million years that I would be in this spot. Everyone sees me as a role model and it's just fantastic." Stay tuned for more info on the Gabby Douglas Barbie!