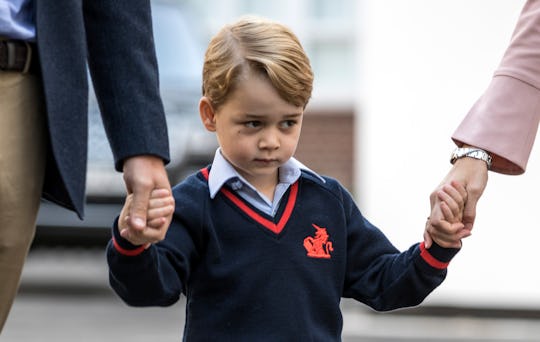 WPA Pool/Getty Images Entertainment/Getty Images
Prince George's Kindergarten Tuition Costs More Than Your 4-Year College
Even members of the royal family have to go back to school in the fall. No, Prince George doesn't have a private tutor nor is he left to study all by his lonesome in a castle's tall tower. Rather, the 4-year-old prince has just begun his formal education at Thomas's Battersea prep school in London this month. So what's the price to be one of his classmates and just how much is tuition at Prince George's school?
Well, as it turns out, little George's schooling has a royally high price tag — an estimated $23,000 to $24,000 USD per year, according to PureWow. And regardless as to whether you have that kind of cash, you still might not make the cut. Thomas's Battersea houses 560 students only, ages 4 through 13, so it's definitely a close-knit, competitive place to start an education.
The U.K.-based publication Good Schools Guide emphasizes the exclusivity of Thomas's Battersea. Admittance to the school is reportedly at its largest with its youngest, initial class — aka, George's 4-year-old comrades. "Register as soon as possible," the guide advises, going so far as to say "preferably at birth."
So let's say you do make the cut and they want to meet you. As the website note, interviews to get into the school for the ideal 4-year-old candidates would "have a measure of confidence, are responsive, sociable, with a light in their eyes." All in all, Thomas's Battersea doesn't appear to be ideal for timid or shy children, as it's best known for its busy nature and its chaos, as PureWow reported. But, these values do make it geared perfectly toward cosmopolitan parents, as the guide evaluates.
But, rather than value busy chaos, the royal family is most likely much more concerned about the school's safety and security. In Prince George's first week of school, a 40-year-old woman attempted to break into the institution, as People reported. The woman was arrested, leading Prince William to dub it "an interesting week." Thankfully, though, George and his prep school classmates are all safe.
There's no doubt that school authorities are doing all that they can to provide a stellar start to George's primary education. "Our aim for him, as well as for all of our pupils is to provide a safe and secure and happy environment where he feels supported by a kind and loving community," former headmaster of Thomas's Battersea Ben Thomas told People. So, despite all the intensity, at its core, the school aims to be a friendly place.
On his first day of school, Prince William walked George into class, introducing him to the head of the lower school. The newest pupil looked absolutely dapper in his adorable uniform — don't they just grow up so fast? William and George snapped a photo together on the steps of Kensington Palace, one that Kate Middleton will definitely want to print out and frame forever.
And just like that luxurious tuition cost, it costs a pretty penny to look that good, too. The yearly cost of Prince George's uniform (including gym clothes, winter accessories, art and ballet gear) comes to a whopping total of $514, according to TIME.
Despite the school's posh and pricey reputation, its stated mission appears to run counter to these assumptions. "As you would expect of any Thomas's school, the most important school rule is to 'Be Kind,'" its website notes. In addition to kindness, "courtesy, confidence, humility and learning to be givers, not takers" are also strong pillars of a Thomas's Battersea education. All of these morals are meant to create well-rounded adolescents who "will leave this school with a strong sense of social responsibility, set on a path to become net contributors to society and to flourish as conscientious and caring citizens of the world."
This seems to be a given in George's case, but it'll definitely help for him to be surrounded by students with similar goals. And with its asking price, Thomas's Battersea has no choice but to live up to these expectations.
Watch Romper's new video series, Romper's Doula Diaries:
Check out the entire Romper's Doula Diaries series and other videos on Facebook and the Bustle app across Apple TV, Roku, and Amazon Fire TV.