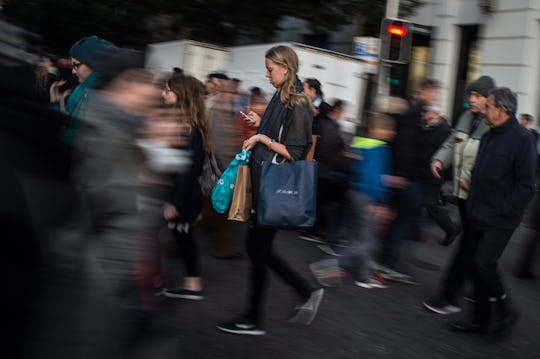 David Ramos/Getty Images News/Getty Images
How Much Money Do People Actually Save On Black Friday?
When it comes to Thanksgiving traditions, Black Friday shopping is right up there with apple cider and homemade stuffing. But when this excursion tends to resurface as a cringe-worthy credit card bill, one can't help but wonder how much money people actually save on Black Friday. At first glance, the answer might seem obvious. Basically every store slashes their prices, offering "Buy One Get One" deals and stackable coupons. And if you arrive early enough, you might even be snag a limited-edition "doorbuster" promotion. One can't help but wonder if the stores even make a profit on Black Friday.
All of this looks amazing on paper; the idea of holiday shopping while saving money is a dream come. However, it usually does look better on paper —in the form of an advertisement. Often, those promotions aren't worth cutting family (and food) time short. And when you factor in the long lines and crazy shoppers, the appeal of shopping is a little less attractive.
Despite the flurry of deals and coupons, people generally don't save much on Black Friday. Remember, those insane sales are powerful enough to ignite random impulse buys. Most purchases are made in a rush without time to compare pros and cons.
U.S. News also shared that Black Friday isn't even the cheapest shopping day of the season. Instead, the days leading up to Christmas is the prime time to shop. During this period, retailers are more focused on pushing out product before the new year.
Moreover, many companies are launching early Black Friday sales in stores and online. This is their way of getting ahead of the game. If you pay attention, you might be able to snag the same deal in store before Thanksgiving hits.
This doesn't mean that it isn't possible to save on Black Friday, though. It's all about your tactic. If you know you're going to get good use out of a specific item or model, it may be worth the chaos. The same concept applies if you've already scoured Black Friday ads and have a game plan. This approach is crucial to a successful shopping spree.
Having a shopping list — and sticking to it — is key to making the most out of Black Friday. Otherwise, blindly embarking on a Black Friday jaunt leaves ample room for impulse buys. In fact, according to the National Retail Federation, only 31.6 percent of shoppers made the conscious effort to wait for ads before making the decision to head to the store in 2014.
You can also save a pretty penny by stocking up on essentials. For example, is your go-to shampoo on sale for 40 percent off? Do you need to replace your collection of holey socks? Stock up. This approach can definitely save you money down the line.
And then there's the one-time hunt for a certain item. From a blazer for your work wardrobe to a toaster for your new home, these items will make your Black Friday journey pay off. Again, it's all about pinpointing promotions ahead of time.
With the right mindset (and game plan), you can defy the odds and make Black Friday work for you — even if it means saving the pie for later.