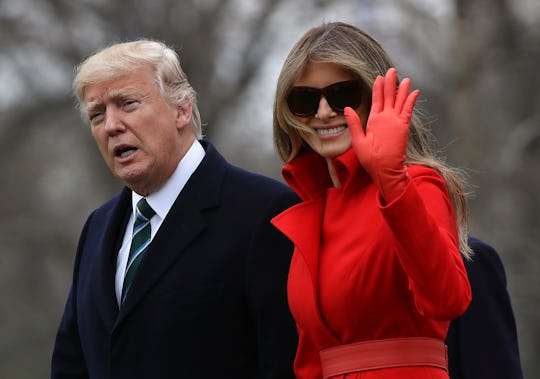 Justin Sullivan/Getty Images News/Getty Images
Melania Trump's D.C. Move Will Save Taxpayers Money
The president and his wife are currently in a long-distance relationship of sorts: President Donald Trump spends his time at the White House in Washington, D.C., while the first lady remains in the Trump Tower in New York City with their son, Barron. Once the school year wraps up, however, Melania will reportedly be making the move to 1600 Pennsylvania Ave. There's been a lot of talk about the cost of Melania's New York stay so far, so just how much money will be saved if Melania lives in D.C. year-round?
The full amount spent on Melania's security and travel expenses hasn't been made public, so it's hard to say precisely how much money the government would be holding onto. However, according to The New York Times, a February estimate laid out by the New York Police Department put the cost of protecting Melania and her son at $127,000 to $146,000 a day. (That figure rises to a total of $308,000 per day when the president joins Melania and Barron in the Big Apple.)
Even without any visits from Trump himself, that still puts the cost of protecting Melania and Barron at around $50 million a year in NYPD costs alone. According to The New York Times, a good amount of that $50 million comes from simply increasing the police presence around the Trump Tower in Manhattan. The cost of Secret Service protection and any travel associated with Melania's decision to stay in New York City haven't been revealed, but it would likely add more onto that sum.
Regardless, if Melania and Barron move to Washington, as sources have claimed they will "absolutely" be doing in June, it would save taxpayers a hefty amount (at least $50 million claimed by the NYPD alone).
The renewed focus on the expenses incurred by the Trumps' living situation came just after the Trump administration proposed massive budget cuts to agencies across the government, with several divisions slotted to lose the entirety of their federal funding. Since the budget was unveiled, there has been renewed interest in Melania's living costs, the price of Trump's frequent visits to Mar-a-Lago, and just how much it cost to protect Eric Trump during his business trip to Uruguay.
While the bill racked up by the first family doesn't quite equal the amount stripped from the Environmental Protection Agency or the National Endowment for the Arts, it makes sense that people want to remind the president just how much taxpayers are paying for his family's lifestyle choices. After all, if Americans have to sacrifice the arts and a healthy environment for the 2017 budget, it seems fair that the Trumps should have to sacrifice a few luxuries as well.