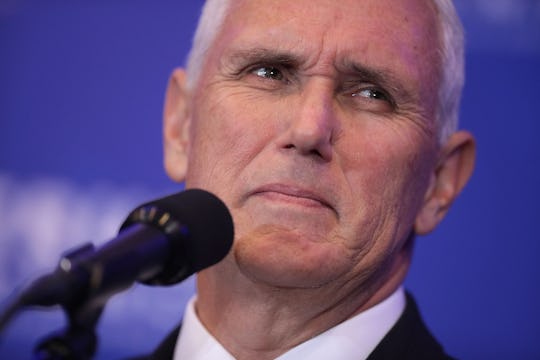 Chip Somodevilla/Getty Images News/Getty Images
How Much Say Does Mike Pence Have In Same-Sex Marriage? He's Known For Anti-LGBTQ Views
Mike Pence, once-time Indiana Governor and current Vice President-elect will be in a unique position compared to many of his predecessors. As the number two to a President-elect Trump, who has no government or military experience, Pence will be a valuable voice of experience in the Oval Office on how to navigate the day-to-day travails of governance. That gives Pence plenty of opportunity to influence policy in a Trump administration on issues he's championed over the years. How much say will Mike Pence have in same-sex marriage? Plenty.
"In many respects, Mike is the guy who is going to fill in all the blanks and help make many of the policy items of the conservative movement a reality," Texas Rep. Jeb Hensarling, a close friend of Pence's, told the Indianapolis Star. "I think he would be one of the more active vice presidents possibly in the history of the republic, certainly in recent memory."
With that much power and influence over the president, Pence will be sure to have ample opportunity to push one of this signature issues, anti-LGBTQ legislation. It was a hallmark of his time in government.
In 2003, according to Mother Jones, as a Congressman, Pence co-sponsored a Constitutional amendment defining marriage as a union between a "man and a woman." During his time in the House of Representatives, he also voted against the Employee Non-Discrimination Act that would have prevented workplace discrimination based on sexual orientation, and he voted against repealing the military's "Don't Ask Don't Tell" policy, Mother Jones reported.
Pence has said, according to TIME, he thinks being gay is a choice and that prohibiting LGBTQ couples from marrying isn't discriminatory at all, it's just upholding "God's idea." LGBTQ people don't get the same rights as every other American because God. A sound Constitutional argument, right? *facepalm*
"Societal collapse was always brought about following an advent of the deterioration of marriage and family," Pence said in 2006, according to TIME.
Most recently, in 2015, Pence, as governor of Indiana, signed a bill that allows businesses to discriminate against gay customers under the guise of protecting "religious freedom," according to CNN.
"The Constitution of the United States and the Indiana Constitution both provide strong recognition of the freedom of religion but today, many people of faith feel their religious liberty is under attack by government action," Pence said about the measure, CNN reported.
There's also at least one vacant Supreme Court appointment the Senate refused to allow President Obama to fill. Pence and President-elect Trump have vowed to appoint strict conservative judges and overturn Roe v. Wade. "I'm pro-life and I don't apologize for it," he said according to the LA Times. "We'll see Roe vs. Wade consigned to the ash heap of history where it belongs."
Not hard to imagine the decision upholding same-sex marriage as a right in the U.S. won't be just as vulnerable as abortion rights under a Trump-Pence administration.