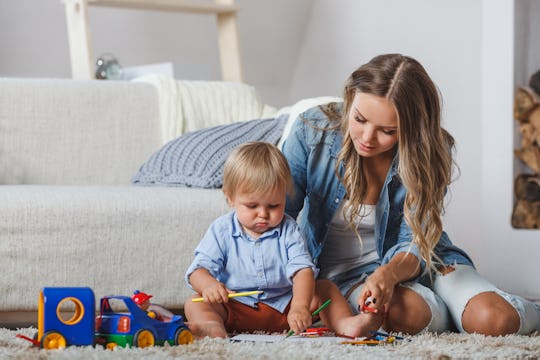 chesterF/Fotolia
Here's What You Need To Know About Babysitter Rates On New Year's Eve
You've been a really great parent all year long. You've changed every diaper, wiped gross runny noses, and made it to every school activity your children have had. Now that the year is winding to a close, it's understandable if you need to party it out like an grown up for just one night. So if you have made adult only plans to ring in the new year, you're probably wondering, how much should you expect to pay a babysitter on New Year's Eve?
For the most part, what you will pay a babysitter will really depend on where you live. Child care costs vary from city to city, so there isn't an exact guaranteed amount you'll pay. But because it's a high demand night for babysitters around the country, you will likely pay a little more than you have the rest of the year. Romper reached out to Carly Carioli, editor-in-chief at Care.com, who says that according to their internal member data, New Year's Eve is actually the second most popular night for babysitting on their site, second to Valentine's Day.
According to a representative from UrbanSitter, the national average for a New Year's Eve sitter is $17.88 per hour for one child and $19.78 for two kids, which is about 20 percent more than any other time of year. And if you live in more populated, urban cities, you can expect to pay more than that. New York City babysitters, for example, have some of the highest rates in the country, charging about $24.06 per hour for two kids, according to UrbanSitter.
Lynn Perkins, CEO and co-founder of UrbanSitter, tells Romper that New Year's Eve is one of the most competitive nights of the year to find a sitter, because not only are you up against other parents, you're also competing with the sitters' social schedules, too. "My advice to parents who are still looking for sitters is to sweeten the deal by letting your sitter bring a friend or provide extras like takeout or a cab ride home," suggests Perkins. Her advice makes a lot of sense, because according to UrbanSitter statistics, 80 percent of parents end up throwing in extras like free dinner and transportation to entice sitters on New Year's Eve, and about 46 percent of parents end up tipping their sitters more.
Perkins also suggests considering sharing the cost of a sitter if you can. "Parents could consider sitter-sharing with another family to offset those higher New Year's Eve rates," says Perkins, "as well as offer to arrive home before midnight so your sitter can go enjoy the late-night festivities."
If you do need a babysitter for New Year's Eve, but haven't yet hired one, you should get on it as soon as you can. Care.com recommended looking for a sitter months in advance if possible, or as soon as you know you will need one. Just in case, they further suggested that you keep a backup sitter in mind, and reach out to them letting them know you might need them last-minute if the other sitter doesn't work out.
With sites like UrbanSitter and Care.com, finding a babysitter has never been easier. All you need to do is set up a profile with your info and what you need, and then you can search through hundreds of sitters in and around your area. You can even modify your search results to filter the gender, age, or the experience you prefer in a sitter. The websites allow you to sort through user reviews, and you can even request background checks for peace of mind.
So if you are planning to go out for the biggest party night of the year, make sure you book a sitter as soon as possible. The last thing you want is to be stuck without a sitter at the last minute, so make some moves and start looking.
Check out Romper's new video series, Romper's Doula Diaries:
Watch full episodes of Romper's Doula Diaries on Facebook Watch.