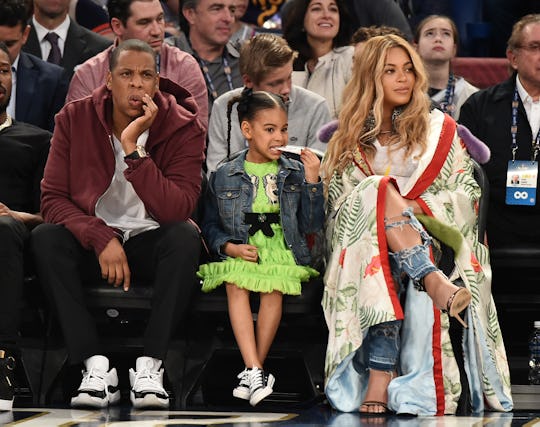 Theo Wargo/Getty Images Entertainment/Getty Images
Beyonce's Birthing Suite For Blue Ivy Was Not Cheap
We could all use a little good news right now, and soon, Queen Bey just might deliver some — literally. After Beyoncé's star-studded baby shower this weekend, the Bey Hive began speculating that she might give birth to her twins within the next few weeks. And judging from Beyoncé's birthing suite for Blue Ivy, her first daughter, those twins will be entering the world in style, and with an expensive hospital price tag to boot.
Back in 2012, when Beyoncé and husband Jay Z had their first child, they made headlines by renting a luxury suite at New York's Lenox Hill Hospital, the Upper East Side hospital that boasts its fair share of celebrity patients. The private area where the Knowles-Carter family welcomed its newest addition into the world was more like a hotel room than the normal maternity accommodations, with flat screen televisions, luxurious sofas, abstract paintings, and a kitchenette. Estimates of the price tag for the suite varied. According to The New York Daily News, Beyoncé's birthing suite cost up to $800 a night, but The New York Post put the figure closer to $2,400. At the time, false reports even circulated claiming that Beyoncé and Jay Z shelled out over $1 million to get the entire maternity floor to themselves, although the hospital quickly shut down that rumor.
While exact numbers may differ, it's safe to assume one thing: The birthing suite was not cheap.
Rumor has it that Bey and Jay Z will be going to a different hospital this time around. In Touch reports that they're headed to Cedars-Sinai Medical Center in Los Angeles. But those who want their queen to labor in as much comfort as possible have no need to fear. That hospital offers its own deluxe maternity suite options, which Kim Kardashian took advantage of when giving birth to her son, Saint West.
So obviously Beyoncé and Jay Z aren't going to skimp on accommodations this time around, especially since they're dealing with twins. In fact, a source told In Touch that they've already reportedly communicated some demands around the birth of their twins:
They scheduled the C-section and prepared an A and a B team as decoys to confuse photographers and fans, and everyone signed confidentiality agreements. Jay and Beyoncé have also been arguing with the hospital about the use of security cameras. Jay doesn't want cameras in the room, hallways or elevators, which is an impossible request... They also made a plan to have everything fully catered so they don't have to socialize in the hospital.
Hey, nothing but the best for the queen! Bless.