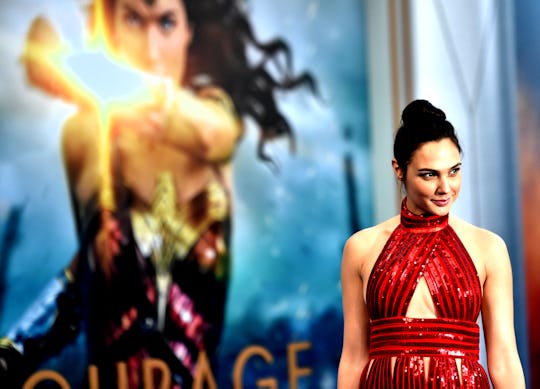 Frazer Harrison/Getty Images Entertainment/Getty Images
Here's What Gal Gadot Was Paid For 'Wonder Woman'
Well, here's a bit of Wonder Woman news that manages to be simultaneously shocking and totally unsurprising. Gal Gadot wasn't paid very much for Wonder Woman, at least by Hollywood superhero standards. The action star and icon-in-the-making netted a mere $300,000 for her leading role in one of 2017's biggest movies. And while that may seem like a nice chunk of change to the rest of us, it's nowhere near the salaries some of her male counterparts have received. Perhaps in the upcoming Wonder Woman sequel, the Amazon warrior needs to smash the wage gap.
The Daily Dot reported that Gadot signed on for three movies with Warner Bros and DC Comics — Batman v Superman, Wonder Woman, and Justice League, which will hit theaters later this year. Gadot agreed to $300,000 for each of them. Neither Warner Bros Studios nor Gadot's reps immediately responded to Romper's request for comment.
Looking at other superhero salaries, perhaps the largest is the payout to Robert Downey Jr., who reportedly makes $50 million per Iron Man outing. And sure, he's a much bigger star than Gadot (at least for now. Who knows how famous she'll become?) but still, that gap seems a little excessive. And for a more fitting comparison, take Henry Cavill, who doesn't have a ton of noteworthy credits beyond playing Superman. Yet he made a reported $14 million for Man of Steel, though it's been noted that those "earnings include bonuses for box-office performance," Vanity Fair stated. (Hopefully Gadot will see a similar bonus, based on the success of Wonder Woman so far.)
To be fair, Gadot was a relative unknown when she landed the role, and she's not the only superhero to make this salary. Apparently, Chris Evans also received $300,000 for the first Captain America movie. And many didn't expect Wonder Woman to do particularly well at the box office.
But do well it did. Wonder Woman ended up smashing records and pulling in over $100 million on its opening weekend alone, while getting a whole host of positive reviews in the process.
So hopefully, Gadot will be receiving a big bonus for her work. Often, stars will receive a share of the movie's profits, if it performs well. And given the spotlight on her right now, she'll have a lot to bring to the negotiating table when it comes to that aforementioned Wonder Woman sequel.
Because as it stands now, Gadot's low salary seems to be just another example of Hollywood systematically under-paying actresses for their work. Actresses as big as Jennifer Lawrence and Amanda Seyfried have spoken out about how they've received millions less than male co-stars for comparable roles, and it's not okay.
But hey, if anyone can fight that Hollywood wage gap, it's Wonder Woman, right?