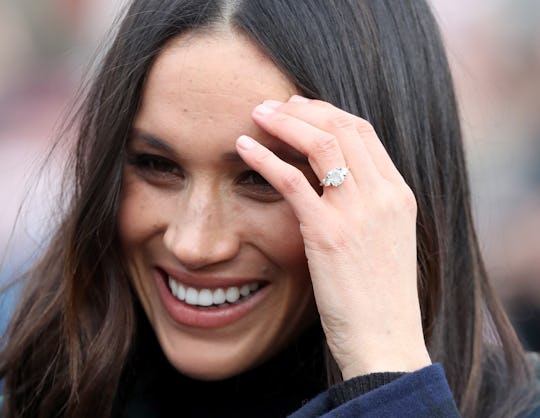 Chris Jackson/Getty Images Entertainment/Getty Images
Meghan Markle's Engagement Ring Cost A Pretty Penny
Next month, Meghan Markle and Prince Harry will marry in front of esteemed guests and millions of people all across the world in a million dollar wedding ceremony (and reception). People, understandably, can not wait to see what Markle will wear and how the wedding will appear on TV when it is live streamed for people all across television. But at the core of their wedding is Markle's engagement ring, which made its first appearance during Markle and Prince Harry's televised interview shortly after their engagement in November. With all of the buzz of the cost of the royal wedding, there is no wonder that people are talking about how much Markle's engagement ring was.
As previously stated, the royal wedding will cost quite a bit of money. The entire wedding could cost the royal family anything from 2 million to 10 million dollars, according to Cosmopolitan. This includes Markle's dress, the flowers, the venue, and of course, the wedding cake and wedding food. But before Markle and Harry can enjoy this wedding for all that it is worth, Markle was (and still is) able to enjoy her engagement ring, which she will wear for the duration of her marriage with Prince Harry and will likely pass on to their kids (when and if they have them) and stay in the royal family forever.
The ring comes at a pretty high cost — it is reportedly worth £122,500, according to OK! which roughly converts to $171,549. Um, hello.
This isn't the cost of your average engagement ring, which in the United States, is $5,000, according to Forbes. But the ring's design is very much unlike your average engagement ring purchased at your local jewelry store.
While Markle's ring costs over $150,000, elements of the ring really are priceless. Markle's ring is custom for her, designed by Prince Harry (and the help of the Queen's jewelers, Cleave and Co.) with Markle in mind (swoon), according to ABC News, with personal touches special to the royal family. In the couple's first televised interview, Prince Harry described Markle's ring and the way he talked about the ring is so sweet. Prince Harry said, according to TIME:
The ring is obviously yellow gold because that's what — her favorite. And the main stone itself I sourced from Botswana, and the little diamonds either side are from my mother's jewelry collection to make sure that she's with us on this crazy journey together.
Markle, of course, was super happy with the ring (how could she not?), saying during the interview, according to ABC News:
I think everything about Harry's thoughtfulness and [the inclusion of Diana's stones] and, obviously, not being able to meet his mom — it's so important to me to know that she's a part of this with us. It's incredibly special to be able to have this, which sort of links where [Harry comes] from and Botswana, which is important to us. It's perfect.
As she stated, Botswana is a special place for Markle and Prince Harry. It's the place where they had one of their first dates weeks after they had first met, according to Vogue, where they "really got to know each other." This, combined with the fact that elements of the ring belonged to Prince Harry's late mother makes the ring worth so much more than its estimated cost.
But since the cost of the wedding is such a hot topic for people, it's no wonder that people want to know more about the ring and its cost. Bottom line — Markle's ring costs a lot and will likely gain value the longer it stays in the royal family. When Markle joins the royal family next month, people will start seeing her engagement ring a lot more. But it's a good thing that it's not that awful to look at.