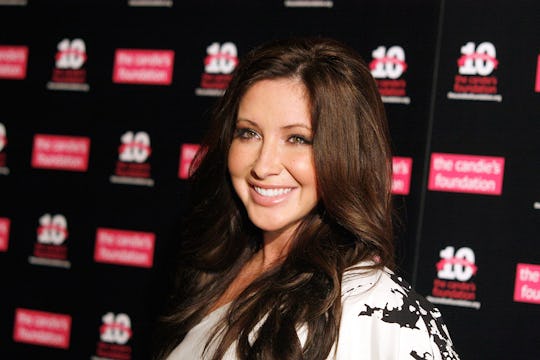 Andy Kropa/Getty Images Entertainment/Getty Images
Bristol Palin's Reported 'Teen Mom OG' Paycheck Is *Massive*
Bristol Palin surprised fans on Friday when she confirmed she'll appear on Teen Mom OG Season 8. People were divided on the news, to say the least — including Palin's new cast members. And the drama continued into the weekend when Us Weekly reported on Saturday how much Bristol Palin will earn on Teen Mom OG. Apparently, Palin will make a *big* chunk of change her first season, a rumor that might ruffle the feathers of her co-stars.
Palin, mom to Tripp, 9, Sailor 2, and Atlee, 1, announced her new partnership with MTV via Instagram. "I am excited to join MTV's 'Teen Mom OG,'" Palin wrote on Friday. "I look forward to sharing my experiences and hope that I can help others on their journey."
Palin's upbeat message was accompanied by a picture featuring herself, a film crew, and her three kids. And it's clear by Palin's smile in the snap that she couldn't be happier to join Teen Mom OG, a sentiment that makes perfect sense when you consider she'll reportedly earn a whopping $250,000 her first season as reported by Us Weekly.
But wait — that's not all. Palin could receive an additional $50,000 if she decides to sign on for a second and third year, according to the report. "[Palin] could be making $350,000 in three years," a source explained. Woah.
Although one might think Palin would be thrilled to earn such a big paycheck in exchange for a few months of filming, she's supposedly not impressed. "Bristol came in hoping for a very big payday, and really thought she could and would get $500,000," an insider shared, according to the Daily Mail. None of the Teen Moms, even Farrah, made close to that when they first started or even now."
Speaking of the other Teen Mom ladies, they did not start their reality television careers at $250,000. Take Teen Mom 2 star Briana DeJesus, for instance. DeJesus reportedly received $20,000 when she re-joined the franchise in 2017, according to InTouch Weekly.
As for stars like Maci Bookout, Amber Portwood, and Catelynn Baltierra, they reportedly earn $25,000 per episode, according to Radar Online. If the rumor is true, the women probably earned around $450,000 for season 7 because there were 18 episodes in total. Keep in mind, however, that the Teen Mom OG cast didn't earn $450,000 at the jump. The women started the show in 2009, so they've worked toward this whopping salary for almost a decade.
Salary differences aside, there's a good chance Palin will get a major boost in her net worth because of the show. Some (unsubstantiated) estimates suggest that Palin is worth $500,000, a sum accrued thanks to Instagram endorsements, a stint on Dancing With The Stars, and many years working at dermatologist's office.
The extra income from Teen Mom OG will probably help Palin as she navigates her new life as a single mom. Palin's husband, Dakota Meyer, filed for divorce in February following close to two years of marriage, according to The Washington Post. Although there is some evidence to suggest the pair might have reconciled since the split, they have yet to confirm the rumor publicly. And if Palin and Meyer are done for good, then it's a good thing she'll have Teen Mom OG to rely on for an income. Money is the last thing a single parent should have to worry about, and it goes without saying Palin is a very lucky person.
Palin is no stranger to living in the public eye, but this will be the most in-depth glance viewers get into her life yet. And fans couldn't be more excited.