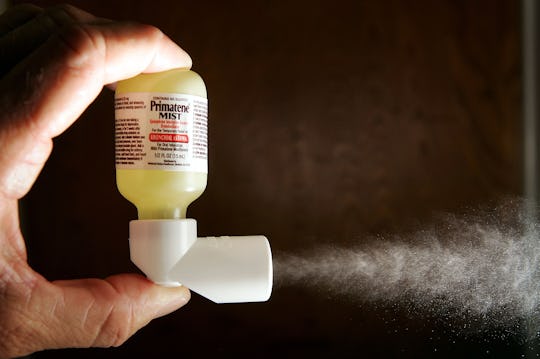 David McNew/Getty Images News/Getty Images
Will Kids With Asthma Be Affected By Trumpcare?
On Thursday, the American Health Care Act passed the House of Representatives by a 217–213 vote, crossing the 216 threshold needed. Under the latest health care plan, premiums would likely increase rapidly for people with pre-existing conditions. Some of those people are kids. One extremely common chronic illness in children is asthma, and those children would probably be affected by a rise in costs as a result of asthma being included as a pre-existing condition, which are no longer covered under the American Health Care Act as they were under the Affordable Care Act. But how much will insurance cost for kids with asthma under Trumpcare?
Think Progress reported that, under the latest Republican health care bill, enrollees could face premium increases skyrocketing into the tens of thousands of dollars. In particular, the Center for American Progress found that people with asthma would face a premium surcharge of $4,340. And asthma doesn't just go away — it can be managed, and triggers can be identified to control them, but asthma is the leading cause of chronic illness in children, and it's not something that can be cured to eliminate those costs.
TIME also reported on findings that noted people with asthma could have raised premiums under the AHCA. And since the Centers for Disease Control and Prevention reported that 6.2 million children currently have asthma, those kids would likely face costs similar to the estimate made by the CAP.
U.S. News & World Report reported that, under the Affordable Care Act, or Obamacare, neither women or children could be denied coverage or charged more due to pre-existing conditions — including asthma. But that protection is not exactly the same under the AHCA. Instead, according to Dr. Leana Wen, Baltimore city health commissioner, "States could allow insurers to set much higher rates for patients who have a pre-existing condition. That's terrifying, because patients could in essence be priced out of coverage." So through no fault of their own, the parents of kids with asthma could face higher costs to have insurance coverage just because their child has a common illness that they can't control.
After the vote on Thursday, Democratic Rep. Pramila Jayapal, from Washington, spoke of her concerns about who will be affected by the passing of the AHCA in response to the vote on Thursday, and she specifically brought up children with asthma, according to KATU ABC 2 out of Oregon. Jayapal said:
It is difficult to imagine what world my Republican colleagues are in that they could vote yes on such a bill. I cannot imagine how they will go home and face grandmothers who will be kicked out of nursing homes or kids with asthma who will no longer be able to afford inhalers.
So why exactly would these costs go up for people with asthma, particularly children with asthma? Kaiser Family Foundation Senior Vice President Larry Levitt told The Washington Post, "No insurance company will want to cover people with expensive health conditions if they don't have to, so they will set premiums to make sure the coverage is out of reach."
Essentially, people who are sick would find it extremely difficult if not impossible to get affordable coverage under the new health care plan, and kids with asthma are often sick on and off (or seasonally) with something they'll have for life. Most of these children need to get treatment, which include access to inhalers through the year, to be healthy, but those kids of treatments would require premium surcharges of $4,340.
Vox reported that the Affordable Care Act provision that allows young adults to stay on their parents' insurance plan through age 26 was added to the AHCA. So some kids with asthma whose parents have good insurance through work might keep their coverage until they're young adults.
But after that, if they have to find insurance coverage for themselves, under the AHCA, their pre-existing condition could mean they'll face astronomical costs to stay covered and to manage their asthma. And even kids who are covered by their parents' insurance could see premiums for that insurance rise if they have a pre-existing condition like asthma.
If the insurance company is able to charge them more under the new rules — which involve applying for a waiver within their state to opt out of the ACA provision that requires Prescribed Pediatric Extended Care (PPEC) coverage or no higher PPEC rates, and their state approves — then kids with asthma could face higher costs for insurance under Trumpcare in certain states.
Now that the AHCA has passed the House, the Senate will vote on it next, though there is no official date for the vote yet and it will likely take a couple of weeks at least to set one. If you're concerned about insurance costs for kids with asthma or other pre-existing conditions under Trumpcare, contact your senator and let them know.