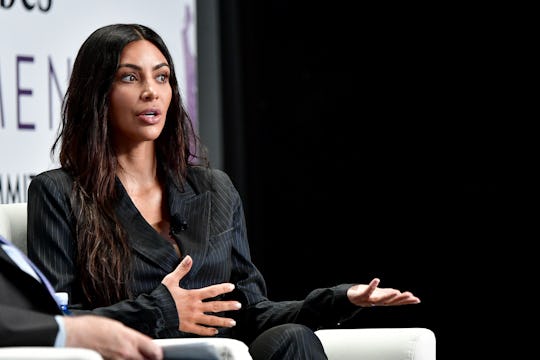 Dia Dipasupil/Getty Images Entertainment/Getty Images
Here's How Much Kim K's Makeup Line Could Cost
Kim Kardashian West is a lot of things — and now you can add "solo makeup maven" to her resume. While she and her sisters previously ran their own beauty line — Kardashian Beauty — this is the first time Kardashian herself is launching her own personal line of beauty products. Obviously, quality comparisons between her line and younger sister Kylie Jenner's will be drawn, but how about price? How much will Kim Kardashian's makeup line cost longtime fans and customers? The collection is set to come out on June 21 under Kardashian's new brand called KKW Beauty, so get ready, because you're probably going to want to lay down some cash.
Considering Jenner's makeup offerings, Kylie Cosmetics are nowhere near drugstore prices; They're quite a bit higher. Kylie lip kits cost $27 and her eyeshadow palettes are between $42-45. Kardashian collaborated with Jenner on a $45 four-shade lip kit this past spring, developing some nudes that were definitely true to her brand. "I wanted to do all nude shades because that's really all that I wear," Kardashian shared.
The four Kim and Kylie shades have rose, pink, and brown undertones — hues that Kardashian will almost certainly work into her own line. Fans are also hoping for Kardashian-inspired brows and luminous skin products, with highlight and contour shades hopefully coming into play as well.
For now, Kardashian is keeping her line as secret as she can, revealing a bare bones website and an Instagram account that have shown the line's release date only. A true queen of social media, Kardashian is managing to stir up lots of mystery and speculation about her brand, so don't be surprised if her products sell out immediately; Fans just can't wait to get a hold of something so new and so glam.
Kardashian shared the millennial-pink tinted video below on KKW's Instagram account. The website it advertises asks visitors for their email addresses so that KKW can send notifications about what is to come:
If you're looking for an affordable make-up brand in KKW, don't count on it. Kardashian's personal make-up artist, Mario Dedivanovic, swears by some luxury brands, like the super pricey Tatcha and the oh-so-legendary Dior. Dedivanovic even developed a palette for Anastasia Beverly Hills that was a bit more expensive than Kylie Cosmetics'. Seeing as this is the standard of products that Kardashian is used to working with, she'll almost definitely go for the same price point, cashing in on her name recognition.
The cheapest Kylie Cosmetics products are her $15 lip glosses; Her Kyliner kits run $26. If you can get your hands on KKW, you'll probably expect to pay that same amount. Unless, of course, the success of Kylie Cosmetics inspires Kardashian to up her prices.
There's so much we don't know about KKW, but we do know one thing: Kardashians (and Jenners) know makeup, so they'd better bring all that expertise to the table.