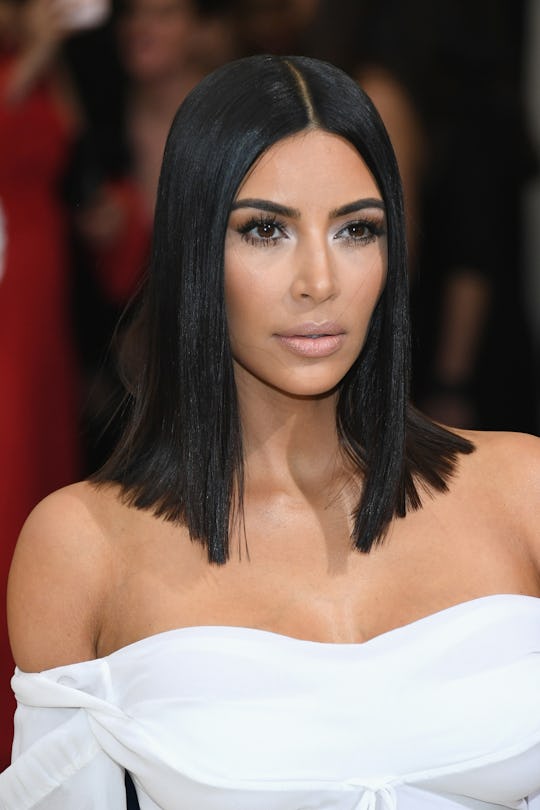 Dia Dipasupil/Getty Images Entertainment/Getty Images
Here's What Kim Kardashian's Surrogate Is Making For Carrying Kimye's Baby
After People broke the news that Kim Kardashian and Kanye West were using a surrogate to carry Kim's third child, a flurry of questions arose. Who is this surrogate? How did she get this job? So far, we know that the surrogate is reportedly a San Diego mom in her late 20s and is three months along. One question that has thankfully been answered is, how much will Kim Kardashian's surrogate make? Because with a job as important as carrying someone else's child, the fee must be steep.
The decision to use a surrogate was influenced by Kardashian's previously difficult births. She has a condition known as placenta accreta, wherein the placenta is formed too deeply and too firmly into the uterine wall. After birth in such cases, the placenta doesn't completely separate from the uterus. This rare condition can cause miscarriages and bleeding. It could be potentially life-threatening for Kim to carry another baby to term.
She graphically outlined her terrifying experience with the condition after birthing North in a blog post, calling it "the most painful experience of my life." Needless to say, Kim doesn't want to run the risk of going through this again. This is where the surrogate comes in.
TMZ reported that the couple would have to pay a deposit of $68,580 to the surrogacy agency before a surrogate was found. After that initial deposit, the couple would pay 10 monthly payments of $4,500 each, adding up to $45,000 by the end of the pregnancy. Along with these standard expenses, the couple would also be expected to pay an additional $5,000 per child if the surrogate carries more than one child. If, for any reason, the surrogate loses any of her reproductive organs during the process, she will receive an additional $4,000.
There are, of course, terms and conditions of her employment. According to TMZ, she is not allowed to drink, smoke, or do drugs; there are limits on her freedoms for sexual activities, particularly in the weeks directly following embryo implantation; she cannot swim in hot tubs or go in a sauna, she is unable to handle or change cat litter; she can't apply hair dye, she is expected to limit caffeine consumption and she can't eat any raw fish. Basically, she is expected to follow all of the do's and don't's of modern pregnancy with a few added restrictions.
None of this should be news to the San Diego mom, however, who is no stranger to surrogacy. She has reportedly served as a surrogate mother in the past and appeared in a promotional video about the surrogacy process.
Given her past experience with the process, the surrogate was likely familiar with the average cost of surrogacy, but for those of us without her experience it may come as a bit of a shock. The Kardashian-West family is far from hurting for money, and a little over $100,000 is a small price to pay for the joy of a child. Best of luck to everyone involved!