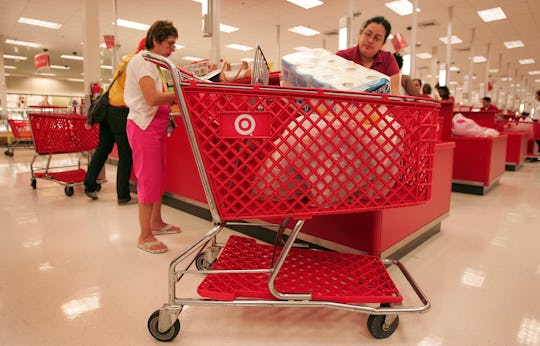 Scott Olson/Getty Images News/Getty Images
Here's How Much Target's New Maternity Line Costs
It's basically an undisputed fact that Target is the closest thing to heaven on earth that this world has to offer. Of course, sometimes you end up spending about ten times more than you had originally intended to, but that doesn't mean the store isn't worthy of all praise that comes its way. And seriously, Target's dollar section and large assortment of clearance clothes are just a few of the things that make it as magical as it is. Now, though, Target is introducing a new maternity line, and it sounds awesome. But, how much will Target's new maternity line cost? It's labeled as "affordable," although that's a pretty loose term these days.
Target has been at the forefront of many major fashion moments lately, with its Victoria Beckham collection selling out in mere hours. And now, the store is expanding its maternity wear. Per the company's statement:
Welcoming a new baby is full of excitement and joy. But figuring out how to dress a changing body without breaking the bank can become intimidating and stressful. The good news? It doesn't have to be! The solution is no further away than the place expecting moms already know and love to shop—at Target and on Target.com. We're introducing a new, exclusive line of affordable maternity fashion, Isabel Maternity by Ingrid & Isabel, created in partnership with high-end maternity brand Ingrid & Isabel.
However, the terms "high-end" and "affordable" don't really go hand in hand, prompting many to wonder just how "affordable" these new clothes will be. Landing in stores and online on July 30, the latest fashion line from Target will run from $9.99 to $39.99, per the company's announcement.
And if the first pictures of the new clothes are any indication at how beautiful the new Isabel Maternity line will be, expecting moms everywhere should definitely ready their credit cards.
Some of the most exciting new items include the flattering pleated tank dress, double-layer nursing midi, seamless belly leggings, and the new "Bellaband for Target," which is specifically "designed to hold up unbuttoned pants and maternity wear that's too loose." Not only will the new Isabel Maternity collection feature adorable clothes for moms-to-be, but it will also feature comprehensive designs that will make dressing during pregnancy that much easier.
In fact, Target's new line features four steps to help new moms understand their changing bodies. There's "Stage One: Prepping For The Pop," "Stage Two: Building The Basics," "Stage Three: Bumpstyle," and "Stage Four: All Things After." Because being pregnant is already confusing and difficult enough, shopping for cute, affordable, flattering maternity outfits shouldn't be an added stress.