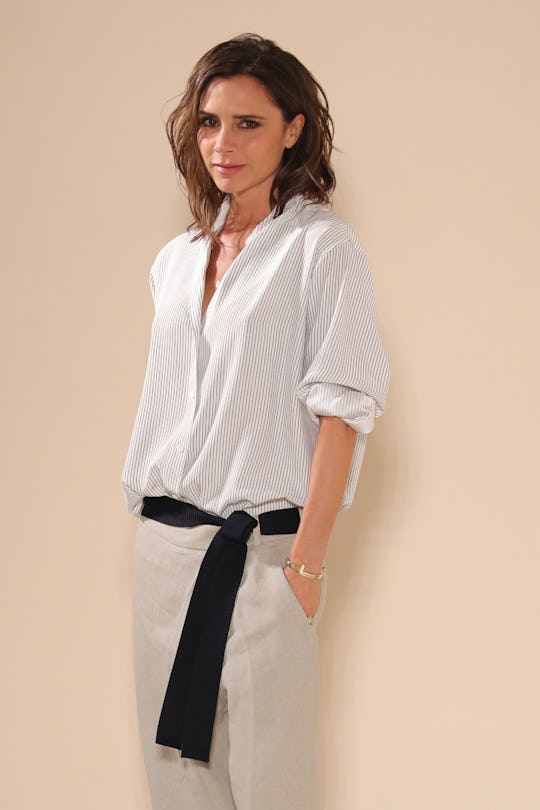 Neilson Barnard/Getty Images Entertainment/Getty Images
How Much Will Victoria Beckham's Kid's Line Cost?
Victoria Beckham is known the world over for her style. While many people remember her predominantly as a member of the British pop group Spice Girls, the woman formerly known as "Posh Spice" has become an icon in the fashion industry not just for her personal style, but her designs. This year, she's bringing her high-fashion looks to Target, and the collection will include a kid's line. How much will Victoria Beckham's children's line cost? It'll be way more affordable than her regular designer products.
Beckham has been designing couture fashion for years, everything from gowns to shoes to accessories. She also has a ready-to-wear collection of dresses, trousers, and blouses and a cosmetics line she created in partnership with Estée Lauder. While most of her designs cost hundreds (if not thousands) of dollars, Beckham told A Bullseye View — Target's corporate website — that she's wanted to expand beyond the "high fashion" market for quite some time:
For a while now, I have been thinking how great it would be to work on clothes for a customer that either doesn't want to pay or can't pay designer prices. I loved the idea of opening the brand up to a wider audience and being able to share my vision with a broader customer base.
The collection Beckham's created for Target will launch on April 9 and will include styles for kids. Beckham, who is married to athlete David Beckham, is a mother of four, so her foray into children's fashion was a natural progression. She also said in Target's press release for their partnership that being a mom definitely influenced her designs:
Being a mother has helped me understand what's important when it comes to the category. I have had years of learning that function is often just as important as form, and that children need to be able to feel comfortable and free in what they wear. For me it was really all about finding a balance between the fun elements and the real-life functionality of a garment.
Beckham also told Vogue that her 6-year-old daughter, Harper, has been quite involved in the design process for the children's line. She modeled a lot of the pieces while they were still in production, "her little favorite is a dress [with] little bunnies on the collar," Beckham said.
The Target line will include more than 200 products for women and kids (many of which are matching looks) and will range in sizes from XS-3X for women and NB-XL for girls, toddlers, and infants, according to Target's press release. Price-wise, items from the collection will range from less than $10 to around $70. If you can't wait another month, there's a sneak peek on Vogue's website — but if you see anything you love you'll want to act fast when the collection hits stores next month. If Beckham's success in the fashion world is any indication, Target won't be able to keep these looks on the rack for long.