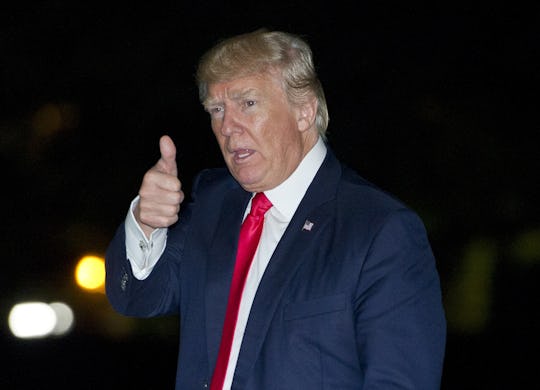 Pool/Getty Images News/Getty Images
How Much Would A Government Shutdown Cost?
On Tuesday, President Donald Trump called for a government shutdown in September, stating that the country needs "a good 'shutdown'" later this year to "fix mess," as he put it. Speaking of a mess, how much would a government shutdown cost, if it came to that? In a series of tweets, Trump called for a shutdown come September, although — as the Washington Post pointed out — he probably meant a shutdown in October, because the current spending bill lawmakers agreed to should fund government operations through Sept. 30. But what would the costs of that sort of shutdown look like, and how would it affect families across the country?
NPR updated an article about the spending bill Monday to state that Congressional leaders struck a deal to keep the federal government funded through late September. With Republicans and Democrats agreeing to the deal, they avoided a shutdown that would have massively interrupted government operations had it come to pass. By avoiding "even the threat of a shutdown," the move was a "political win" for Republicans, according to the outlet.
An analysis by Chris Cillizza, Editor-at-large for CNN, pointed out that Trump's endorsement of a shutdown "could cost Republicans dearly if they decide to follow it." Speaking of costs, what would those costs look like, if a government shutdown really does happen later in 2017 with Trump's seal of approval?
Trump tweeted in a two-parter message Tuesday that,
The reason for the plan negotiated between the Republicans and Democrats is that we need 60 votes in the Senate which are not there! We....either elect more Republican Senators in 2018 or change the rules now to 51%. Our country needs a good "shutdown" in September to fix mess!
So he doesn't seem all that happy with the plan as it was negotiated, and he seems to think the idea of a shutdown should be revisited in September. If a shutdown did occur later in the year, there would certainly be some enormous costs to the constituents of politicians who would make that decision — both financially and otherwise.
KSL out of Salt Lake City UT reported that the government has previously shut down 18 different times, starting in 1976. That outlet reported that the last time the government shut down — for 16 days back in 2013 — according to the Office of Management and Budget, it cost taxpayers "$2 billion in lost productivity."
Two. Billion. Dollars.
KSL also reported that two earlier shutdowns — in 1995 and 1996 — cost the U.S. $1.4 billion, by comparison. So yeah — a "good shutdown" is pricey, to say the least.
The Huffington Post reported that the government shutdown in 2013 took "at least $24 billion out of the United States economy," as the financial ratings agency Standard & Poor's found. The firm reported that the shutdown caused it to slash its forecast of gross domestic product growth in the fourth quarter that year, leading to that higher number of dollars lost as a result of the move.
But KSL reported that there would be other costs to the American people in the event of a shutdown. Since all nonessential federal employees would have to stay home, national parks, monuments, zoos, and museums would have to shut down, too. That could hurt things like tourism and tax revenue.
The website also pointed out that many federal employees may be furloughed — or temporarily laid off — during a government shutdown. The economic impact of that is astounding, and the effect would likely be similar should a shutdown actually happen after late September, as Trump suggested it should.
The Military Officers Association of America reported that a shutdown could affect troops, veterans, and their families in particular. The association reported that a shutdown could leave some Department of Defense personnel without paychecks, and that some would be furloughed. And that for "families with an upcoming permanent change of station," some moves might be limited if the government was shut down.
It's clear that a government shutdown would drive up enormous costs for people who trust their government officials to work in their best interests. President Trump should keep that in mind the next time he thinks suggesting a shutdown is a good thing that would do anything but cost the government money and hurt the Americans he claims to represent.