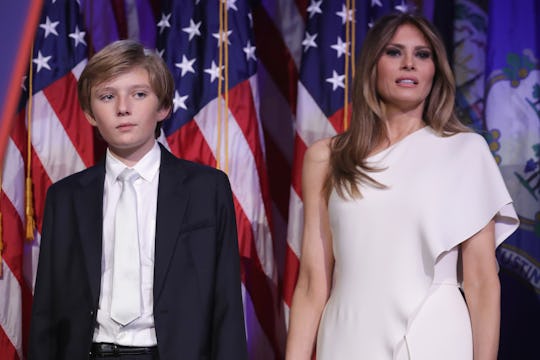 Chip Somodevilla/Getty Images News/Getty Images
How Much Would It Cost For Melania & Barron Trump To Live In New York? It's Not Cheap
Donald Trump is, without a doubt, an unprecedented phenomenon in the history of American politics, so it's not surprising that there have been some bumps in the road during this transition period. Most notably, there has been a barrage of rumors over the past few weeks concerning the Trump family's living situation. Not only have there been rumors that Trump himself does not want to live in White House full time, the president-elect confirmed the news that his wife and youngest son would not be joining him in Washington D.C. come January. Instead, Melania and Barron Trump are opting to stay in New York City until the school year finishes. Following this news, reports that the Secret Service would be renting space at Trump Tower started circulating. The various reports on where the Trump's would be living and how they would be protected in that location have people wondering how much it would cost for Melania and Barron to live in New York City — and perhaps what kind of impact that might have on the country, both locally and across the nation.
According to CNN Money, it costs New York City more than $1 million a day to protect President-elect Donald Trump and his family. All three of Trump's adult children live in Manhattan as well and are under Secret Service protection. Local law enforcement is charged with assisting the Secret Service in protecting first families wherever they live or are traveling. It's a particularly large undertaking for the Trumps, however, because they live in the middle of "the most densely-populated neighborhood of the nation's biggest city," as CNN Money points out.
"We have never had a situation where a POTUS would be here on such a regular basis," New York City Mayor Bill de Blasio said in a press conference on Friday. "The number one imperative here is safety and security. We owe that to the president elect, his family and his team." The mayor also pointed out that it will take "substantial resources" to continuously protect the Trump family in midtown Manhattan and that he has plans to begin conversations with the federal government about reimbursing the NYPD for the costs they are currently incurring.
While the NYPD deals with keeping the general public away from Trump Tower by setting up barricades on the street, the Secret Service is considering renting one or two floors inside the building. The space would be turned into a 24/7 command post, according to CNN, so the Secret Service can be close to Melania and Barron at all times. It's not unusual for the Secret Service to rent properties close to President's hometown residences in order to protect their charges, however, it is unusual that they will be paying rent to a corporation owned by the President himself. The available space in Trump Tower costs about $1.5 million a year in rent.
Republican political pundit Ana Navarro made an appearance on CNN pointing out the hypocrisy of taxpayers' money going into Trump's pocket while he allegedly has not paid his own taxes in years. Navarro called the situation "cringeworthy." Representatives for the president-elect did not immediately respond to Romper's request for comment on whether Trump would waive the rent for Secret Service members or whether the cost might be offset somehow, to relieve taxpayers of the extra burden.
As Mayor de Blasio pointed out, it's a massive undertaking for New York City to protect President-elect Trump full time in the interim between Election Day and Inauguration Day. If Melania and Barron decide to stay in Trump Tower after the school year ends, however, the Secret Service and NYPD will have to continue to protect the first family, no matter the financial cost.