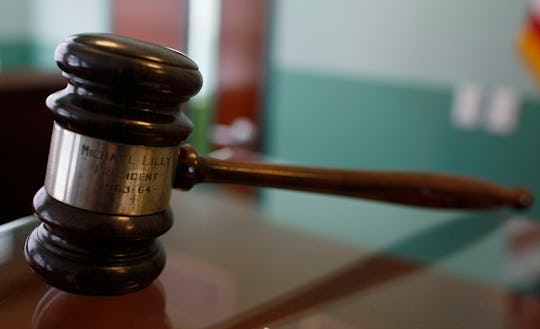 Joe Raedle/Getty Images News/Getty Images
How Often Are Kids Tried As Adults? The Slender Man Trial Raises Issues Of Age & Justice
On Wednesday, a Wisconsin appeals court upheld a decision to try two girls as adults for the attempted murder of Payton Leutner in 2014. Morgan Geyser and Anissa Weier were 12-years-old when they allegedly stabbed Leutner — a fellow classmate who was also only 12-years-old — 19 times in a forest near their homes; amazingly, Leutner was able to crawl away with her injuries and seek medical help. The girls claimed they intended to sacrifice Leutner as an offering to the Slender Man, an internet horror meme. Dubbed the "Slender Man" trial, their case raises the question of not only how many kids are tried as adults in the United States — but the legal and moral ethics of doing so.
According to the Campaign for Youth Justice, a national organization that advocates for minors throughout the justice system, there are approximately 250,000 youth under the age of 18 who are charged, tried, or incarcerated as adults every year in the United States. While minors make up just 1 percent of the entire American prison population, the issue of trying children as adults is complicated and complex, with state laws on trying minors as adults — and at what age — vary from state to state.
There's an amorphous moral dichotomy of justice at stake when kids are tried as adults. On one hand, these are kids who, as a result of being tried as adults, can be housed with adults in prison instead of juvenile detention centers. But on the other hand, when kids commit a crime as heinous as the Slender Man case, how should the courts mete out justice for their youngest offenders? According to the Equal Justice Initiative, 14 states do not mandate minimum ages for transferring juvenile cases to adult courts — which means children as young as 8 years old can be tried as adults.
The Slender Man trial is certainly an anomaly when it comes to juvenile crime, as murders committed by juvenile offenders are considered rare. According the most recent crime statistics from the U.S. Department of Justice Office of Justice Programs, 650 murders were committed by minors in 2014. Despite the rarity, should 11 year olds be tried as adults? CNN legal analyst Phillip Holloway wrote in 2015:
But the fact remains that children are children -- they are not adults and their brains do not work the same as an adult. Just ask any parent. Children cannot enlist in the military. Children -- indeed, adults under 21, cannot legally order a beer. Children cannot enter into contracts. Children cannot make legal decisions for themselves, but they CAN be held to adult standards if they are charged with crimes.
As chilling as the origins of the Slender Man case may be, it speaks volumes to the state of mind of these girls: They truly believed that the Slender Man internet horror meme was real. There are really only two groups of people who would truly believe an internet horror story like Slender Man was actually real: children or the mentally ill.
In this case, both factors attributed to this grisly crime. Geyser has been diagnosed with early-onset schizophrenia while Weier was diagnosed with delusional disorder and schizotypy. Even two years after the attempted murder, Geyser still believes Slender Man is real, according to two psychiatrists who evaluated the girl in 2015. Still, it's important to note that only 3 percent of violent crime can be attributed to people with mental illnesses like depression and schizophrenia.
With all these factors to consider, should children be tried as adults? There's no easy answer — or easy justice to be found.