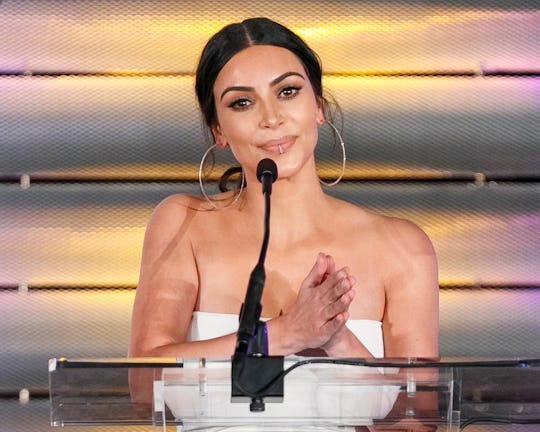 Rich Polk/Getty Images Entertainment/Getty Images
Here's What We Know About Kim K's Relationship With Her Surrogate
Multiple sources have reported that Kim Kardashian and Kanye West have hired a surrogate to carry their third child, and people have so many questions. How often will Kim Kardashian see her surrogate during the pregnancy? Who is she? Is she already pregnant? Does she realize what she signed up for, or has she managed to avoid every television, website, and magazine for the past decade? First of all, we don't actually know if she even exists, since there's been no official statement, and Kardashian's reps haven't returned Romper's request for comment.
However, after TMZ broke the story and People confirmed it with their own sources, E! News began reporting that "multiple sources" also backed it up. Since Keeping Up With the Kardashians airs on E!, it's a pretty safe bet that the rumor is true. Unfortunately, the network isn't sharing as many details as some other outlets, so it's hard to tell what's accurate at this point. TMZ claimed that the surrogate is being paid $45,000, which is the going rate for an experienced surrogate in California. And Us Weekly has reported that the woman has been a surrogate before, even appearing in a promotional video for the agency. If you can afford it, it never hurts to go with a professional!
Us also claimed that the woman is a 20-something mom from San Diego, which is about four hours away from the Kardashian-West's perpetually almost-completed Hidden Hills mansion. Assuming those facts are accurate, between the surrogate's family responsibilities and the distance, Kardashian probably won't be able to check on her precious cargo in person every day. After carrying her first two kids, it might be a hard transition to have her future baby so far away. But on the other hand, if Kardashian stays away, so will the paparazzi, because that's the last thing the surrogate needs to be stressing about right now.
Every surrogacy relationship is different, and while some parents might want to micromanage their surrogate's pregnancy, others take a more laid-back approach. Fans probably shouldn't expect the surrogate to be a frequent guest star on Keeping Up With the Kardashians 'Season 14, but reproductive endocrinologist Mark Leondires told The Bump, "Usually at minimum, they speak one time per week, in my experience. Once the journey has started, regular email and texting or phone calls are common. Everyone is excited." Now the only question left is, will the surrogate be required to report on her pregnancy exclusively through Kimoji texts?