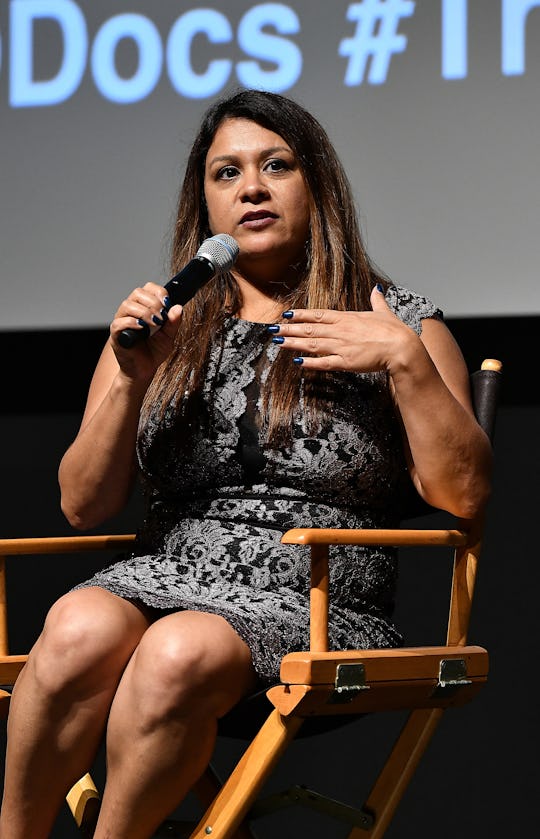 Slaven Vlasic/Getty Images Entertainment/Getty Images
You Won't Believe How Much Cindy Shank's Girls From 'The Sentence' Have Grown
in 2002, Cindy Shank — a mother of three — was sentenced to 15 years for a first-offense, non-violent crime. She went to prison for conspiracy drug charges committed by a deceased ex-boyfriend. The new HBO documentary, The Sentence, filmed by Cindy's younger brother, Rudy Valdez, captures the journey. Cindy's time away meant her young girls would grow up without a mother. So if she was prosecuted in 2008, how old are Cindy's daughters from The Sentence now? The answer is a sad reality of how incarceration affects more than the incarcerated.
According to Washington Post, the youngest of the three daughters, Annalis, was a mere six weeks old when their mom was sentenced and taken to prison. She's 10 years old now. Autumn, the oldest and whose voice is most often heard throughout the film, is featured in the opening scenes at six-years-old as she prepares for her dance recital with Uncle Rudy. She's 14 years old now. Ava, the middle child, is 12 years old. This means that the majority of each of their young lives has been marred by the absence of their mother more than her presence, and that's likely not something any of them will forget. Among those would be Cindy herself who said watching the film was "an emotional experience," adding, "To be honest, it was devastating the first time I saw it, because I saw how much I'd missed of my daughters' lives. I probably really saw only half of it, because I was crying through the other half."
Autumn is also shown in the film as saying, "I think about her every second of the day and the night." It's that little voice, saying those heartbreaking words that reveal the clear juxtaposition of how time away from someone you love moves slow and yet so quickly at the same time. The girls spent so much of their lives pining for the brief allotted time they could hear Cindy's voice on the phone, it's almost unfathomable this could've ever happened. As the mother of two, I know it would be impossible to maintain any level of satisfaction while separated from my babies.
Cindy told the Washington Post more about those tearful weekly 15-minute calls saying "I remember Ava used to say, 'My Mommy is a phone." As if that's not breaking your heart already, the preteen continued, "I would hold the phone tight. While we were talking, I would wrap myself in a blanket she knitted for me so it was as if she was holding me." No, I'm not crying — you're crying.
Cindy was imposed the minimum mandatory sentence of 15 years even though there hadn't been initial charges filed. She'd long since moved on with husband, Adam Shank, and their three girls, according to Newsweek, and that's when the knock at the door came for her arrest. While the discrepancy sounds bizarre, Kevin Ring, president of Families Against Mandatory Minimums told NBC News this case and mandatory prison sentence aren't that unusual actually. "There is a whole category of cases like hers, enough that people refer to it as 'the girlfriend problem,' whereby a criminal's girlfriend or partner can be held fully liable for his crimes." It's unsure, though, how many like Cindy wait years past the initial arrest, are set "free" and then arrested and prosecuted again years later. Regardless, it's clear that those who pay the ultimate price may be those left behind.
If you haven't heard much of the case, The Detroit Free Press stated when Cindy's ex-boyfriend, Alex Humphrey — a known drug dealer — was fatally shot, investigators couldn't locate the killer. However, a home search where the two lived together ended in one of the biggest drug busts in the history of Lansing, Michigan. Cindy stated she wasn't involved and had no knowledge of the circumstances. But, again, was arrested, let go, and only arrested later after building a new life. After nearly nine years in prison, President Obama commuted Shank's sentence and and she was finally released in December 2016.
Cindy spoke to The Los Angeles Times saying, "I was sentenced to missing my daughters growing up." Though she adds that her story may tell the story of many. "I want people to know that people who are behind bars aren't horrible people. They're somebody's mother, daughter, sister, wife. They have people who love them. And there are good people there, too. I left behind a lot of deserving women who deserve to be home with their children just as much as I do."
The Sentence shines a much-needed light on how the law sometimes works against itself, and how imprisonment impacts the lives of loved ones. Cindy's girls can't get back the time lost but having their mom back is a pretty good start.