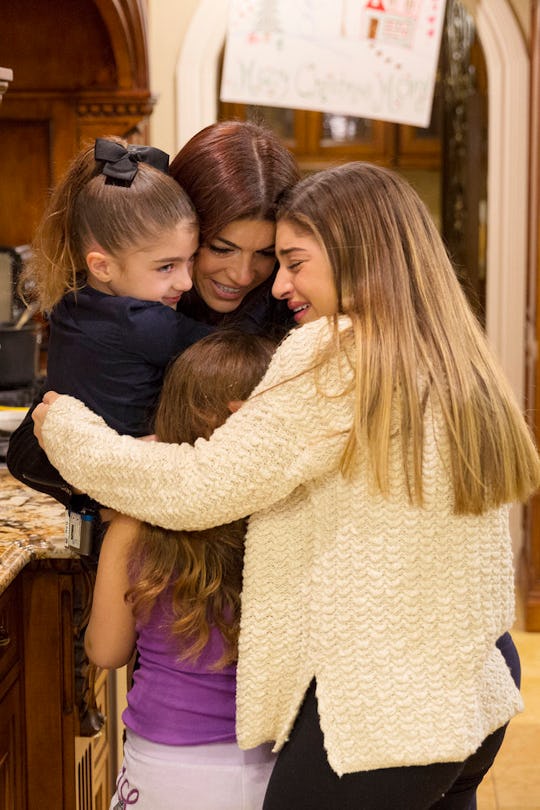 Greg Endries/Bravo
How Old Are Teresa Giudice's Daughters On 'Real Housewives'? The Girls Are Growing Up
With Teresa Giudice's return after a one-year stay in prison, this season of The Real Housewives of New Jersey may be the most hotly anticipated Real Housewives season yet. Teresa has said more times than it is possible to count that the hardest part about going to prison was being away from her four girls, Gia, Gabriela, Milania, and Audriana. Their mother's absence was probably hardest on the youngest two, Milania and Audriana, who might not fully understand why she was away. So how old are Teresa Giudice's daughters? They're growing up fast, right in front of all of our eyes.
Teresa's oldest daughter, Gia, turned 14 while her mother was in prison, and acted as a de facto leader of the household during that time. She even sent tweets from Teresa's account on her behalf. Her next sister, Gabriela, is now 11, Milania is 9, and Audriana is just 6 years old. While the other girls seem to know at least vaguely what was going on with their mom, Audriana was told that Teresa was "at work" during her prison stay (according to the Teresa Checks In special Bravo aired). Presumably, that's where she thinks her father, Joe Giudice will be for the next few years. At least until she's old enough to understand.
Gia may be just 14 years old, but over the past year or so, she's done a lot of growing up. Honestly, I'm not sure what Joe would have done without Gia's help with her younger sisters. This young lady has matured way beyond her years.
Second in command is Gabriela, who just graduated from the 5th grade. It's honestly extremely hard for me to believe that she is only 11 years old.
I have a soft spot for Milania. At 9 years old, her personality is as big, loud, and unapologetic as any of the Housewives, and honestly I would gladly watch a show of just her living her fabulous 9-year-old life.
Baby Audriana is just 6 years old, and is basically a mini-Milania. Maybe it's too early to call, but I have no doubt that Audriana will grow up to be just as much a firebrand force-of-nature as her sisters and, of course, her mama.