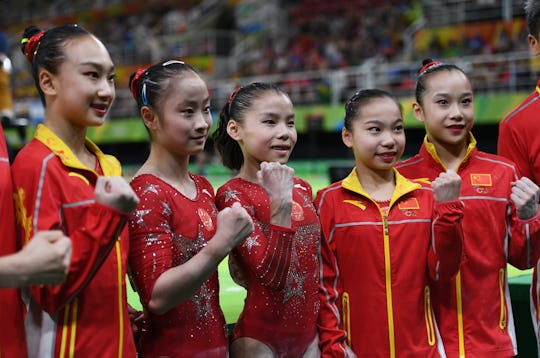 David Ramos/Getty Images Sport/Getty Images
How Old Are The Chinese Gymnasts? Younger Than The U.S. Ones
Before the Fierce Five dominated the 2012 London Olympics, China's team won the team all-around competition in Beijing at the 2008 games. While it's predicted that the U.S. team will reign supreme in Rio this year, China garnered a (relatively distant) second place before the final day of competition. Comprised of newcomers and seasoned athletes alike, the American team has some young stars—19-year-olds Simone Biles and 16-year-old Laurie Hernandez among them. In comparison to China's team, though, the U.S. squad looks like a bunch of veterans. So how old are the Chinese gymnasts?
According to the International Federation of Gymnastics' website, female gymnasts must be 16 at the time of competition due to the fact that "high level gymnastics practised too early on can be hazardous to the health of a gymnast." The average age of a competitor at the London games was 19.78.
20-year-old Shang Chunsong leads the Chinese team along with two 19-year-olds, Tan Jiaxin and Mao Yi, and two 16-year-olds, Fan Yilin and Wang Ya, reports The South China Morning Post. Two reserve members who did not make the final team, Liu Jinru and Liu Tingting, were 15 years old at the time of the issues' publication in late May of this year. As the FIG requires gymnasts to turn 16 within the calendar year, this should have rendered them disqualified already.
At the 2012 games, spectators and coaches alike were asking that for proof of acceptable age that the Chinese team was able to provide. The New York Times reported, though, that three of the team's gymnasts "were listed as being younger than 16 on Chinese sports registration lists" prior to the games. A different gymnast from China's team "was noticeably missing a baby tooth, something not normal for a 16-year-old."
Seeking proof of Chinese athletes' ages doesn't come from a purely speculative place, as China has been caught competing with underage gymnasts in the past. A member of the 2000 team, Dong Fangxiao, was found ten years later to be 14 years old at her time of competition in the Sydney Olympic games. She was stripped of her bronze medal.
The composite average age of the Chinese team is exactly 18 years old. The five members of the U.S. team measure up at about 19.2 years. From aesthetics and history alike, it's reasonable to ask for proof of age from all competing Olympic gymnasts, especially teams that have tricked the system in the past. Ultimately, the Olympics seek to reward the best athletes—ones who agree to follow the rules and standards expected of every competitor.