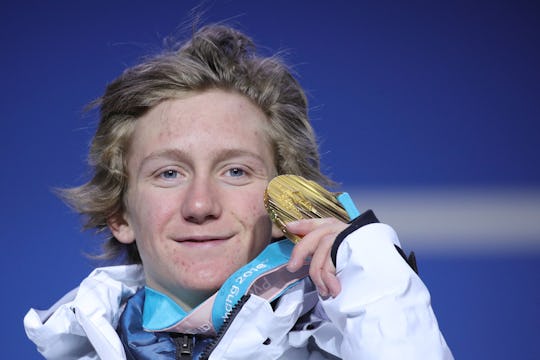 Andreas Rentz/Getty Images Sport/Getty Images
Here's How Old You Have To Be To Compete In The Olympics
When Red Gerard and Chloe Kim hit the Olympic snowboarding slopes at the Winter Olympics in PyeongChang, South Korea, in their respective events, magic happened. The two snowboarders put on an amazing performance, wowing the judges and the audience members at home. Not only were their moves impressive, but their ages were, too — both gold medalists are only 17 years old. This brings up the very vital question — how old do you have to be to compete in the Olympics?
You might be surprised to know that there isn't a set age limit to compete in the Olympics, according to TIME. Instead, "each International Sports Federation" sets the age limit (as well as the rules) for each sport held in the Olympics. This means that every sport is different and every set of individual rules can change due to updates.
In order to compete in speed skating, single or pair skating, ice dancing, and synchronized skating during the Winter Olympics, you have to be at least 15 years old to compete, according to the rules and regulations created by the International Skating Union. In snowboarding, competitors only have to be 15 years old to compete in the Olympics, as well, according to the rules and regulations published by the International Ski Federation. Young Olympic hopefuls at the age of 14 can only compete in skeleton, according to Fansided, or curling, which has no age requirement. The age limits are similar for the Summer Olympics, according to TODAY — you have to be at least 16 to compete in track and field or in gymnastics, but swimming has no age limit.
But, as previously stated, every single sport is different and not only has age limits written in their rules, but different qualifications for each competitor to go to the Olympics. It's not just about age (although that plays a huge role) it's about if the athletes are physically ready to compete and represent their country at the Olympics.
Getting to the Olympics takes a lot of training, practice, and hard work to get there. And with the majority of teenagers still navigating the rough landscape of high school, it might be a little difficult for them to navigate the icy terrain of an Olympic ski course, as well. However, there are some athletes at this year's Winter Olympics that were able to do just that. There are six 15-year-olds competing at the 2018 Winter Olympics, according to NBC Sports. But Olympic competitions don't discriminate against age either. At 51-years-old, Canadian Cheryl Bernard will be the oldest person competing at this year's Olympics, according to NBC — and you can catch her on Canada's curling team.
That isn't to say that age hasn't caused some controversy at the Olympics. During the Summer Olympics, the age requirement for gymnasts was upped in 1997 from 15 to 16, according to LiveStrong, after concerns about the effects of the sport on young girls were raised. In 2008, some people thought the Chinese Olympic gymnastics team had been lying about the age of their athletes, according to The New York Times, after the girls on the team looked child-like. But investigations later found that the girls were all 16 years old.
While there are some perks to competing in the Olympics as a teenager, according to CNN, the rules are there for a reason. Kim, who missed the cut off by two years to compete in the 2014 Winter Olympics told CNN that she was glad there is an age limit in place, even if she was a little upset she couldn't make her Olympic debut sooner:
I think I was a little bummed out then, but now that I look back at it, I think I'm kind of glad that I wasn't old enough to go last time. It's too much stress for a 13-year-old, so I'm actually happy that I wasn't able to go. But, equally, I was so lucky to still be able to go through the whole Olympic qualification process when I was 13. That experience really helped me this year, knowing ahead of time what it was going to be like, what the pressure was going to be like. I think that was very comforting for me.
For those who are just a little too young to make the cut off for the Olympics have another option — the Youth Olympic Games. The Youth Olympic Games are held for young athletes all around the world, according to the Olympics, and are meant to teach young athletes about the "Olympic values" as well as prepare them for future Olympic competitions.
Although finding the time to train for the Olympics might be a little hard for teenagers who are balancing homework and their very busy social lives on top of trying to win a gold medal, Gerard and Kim's performance at the Winter Olympics proved that anything is possible. Age is nothing but a number when it comes to kicking some serious butt at the Olympics.
Check out Romper's new video series, Romper's Doula Diaries:
Watch full episodes of Romper's Doula Diaries on Facebook Watch.