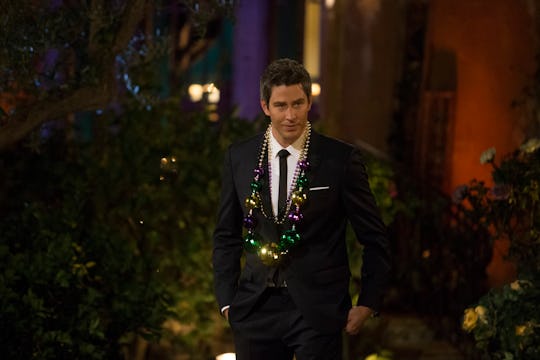 Paul Hebert/ABC
Arie's Age Is Already A Point of Controversy On 'The Bachelor'
Age ain't nothing but a number, except on The Bachelor franchise where it's a huge deal. Typically, the men are older than the female contestants because as Bachelor Nation knows, the show isn't woke. But is Arie Luyendyk Jr. an exception to this rule? How old is Arie on The Bachelor? He first appeared in the franchise in 2012 during Emily Maynard's season of The Bachelorette and was the runner-up. Now, six years later, Arie will get his own chance at love. Seeing as he was already on the show years ago — which truly is centuries, in Bachelor time — how old is the newest Bachelor? Contestants usually range from early 20s to mid-30s.
Arie is 36 years old, and his birthday is September 18 (Virgo!). When he was announced, viewers were pretty shocked not only because they may have forgotten who he was (or, like me, didn't descend into the hole that is the Bachelor franchise until after 2012 so I didn't even know who he was), and not only because he wasn't Peter Kraus (this is the hill I'll die on but hey, if Arie can be 2018's Bachelor then Peter can surely be 2023's Bachelor), but because of his age. In actuality, though, Arie is not the oldest Bachelor so far. He's certainly above the average age, but not the oldest.
The first Bachelor, Alex Michel, was 32 at the time. Last season's lead, Nick Viall, was also 36 during his run. Ben Higgins and Jesse Palmer tied for the youngest lead at 26 years old when they were Bachelors. And the oldest (so far, anyway)? Byron Velvick, who was 40 years old when his season aired in 2004. So while Arie is on the older end of the spectrum, he's certainly not the oldest. Despite this, though, age has already been a subject of controversy — before the season has even started!
According to The Hollywood Reporter, there's a pretty big gap between Arie's age and those of his contestants. The majority are in their early 20s, with only six women in their 30s. One contestant, Bekah M., does not have her age listed on her ABC bio. Through some snooping, though, the internet figured out that Bekah is probably 22 years old (the age minimum to apply for The Bachelor is 21). The oldest contestant is 33, still three years younger than Arie. As a contrast, last year's Bachelorette, Rachel, was 31 and chose Bryan, who was 37 at the time — six years her senior.
When speaking to The Hollywood Reporter, Arie said that during his Bachelorette run his age was considered a positive thing. He was 30 at the time competing against younger men. Emily, the Bachelorette, was a single mother and valued that Arie was a bit older. Obviously it didn't help him that much because he didn't win, but I digress. Now, Arie is considering maturity and readiness to settle down over actual age. "I think it's more about the person and if they're ready for marriage and how mature they are," he told The Hollywood Reporter. "Some women are far beyond their years and some women are very immature in their thirties — I've dated younger, older."
That's understandable, but I still dislike how contestants' ages skew older for The Bachelorette and younger for The Bachelor. Argh! There just couldn't be a contestant Arie's age in the pool? Arie said Bachelor producers had age in mind, but wanted a "variety" of ages. "It's more about being ready," he told THR. "I was open to a variety, and that's something that the producers knew." Well, he kinda got a variety — even if all of them are younger. Regardless, it'll be interesting to see how Arie's age and the age of the contestants will play a factor this season.
Check out Romper's new video series, Romper's Doula Diaries:
Watch full episodes of Romper's Doula Diaries on Facebook Watch.