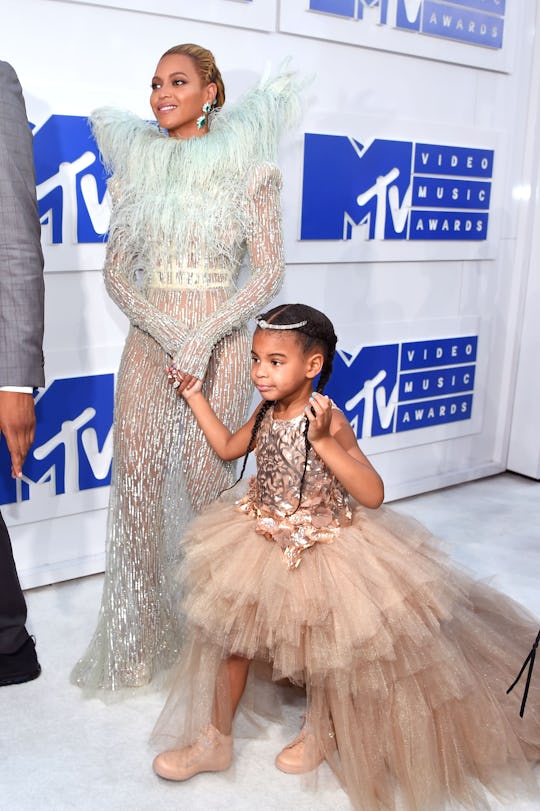 Larry Busacca/Getty Images Entertainment/Getty Images
Blue Ivy Is Going To Be A Great Big Sister
In a time when the news cycle seems pretty grim, we can of course count on Beyoncé to bring some joy into this world. And it seems it's going to be double the joy this time around. According to her official Instagram, Beyoncé is pregnant with twins, which means Blue Ivy is going to be a big sister. So how old is Blue Ivy, exactly? As it happens, she just turned 5 years old on Jan. 7 of this year. And that's basically the perfect age to be mom's little helper when it comes to eventually taking care of the upcoming new members to the family.
In the photo, Beyoncé is shown wearing lingerie with a green veil covering the top of her head while surrounded by a beautiful array of flowers. The caption reads: "We would like to share our love and happiness. We have been blessed two times over. We are incredibly grateful that our family will be growing by two, and we thank you for your well wishes. - The Carters." Basically, it is the most perfect pregnancy announcement that has ever existed and will ever exist in the future. Suffice to say, Bey knows how to make an impression. But hey, we kind of already knew that, didn't we?
But of course this is only the start of what I'm sure will be many adorable photos to come. Personally, I'd love to see one that includes Blue Ivy, maybe even showing her touching her mom's belly. Though now that I say it out loud, I'm worried my heart would probably burst from emotional overload. Whatever. It'd totally be worth it.
Obviously, Blue Ivy is going to be an amazing big sister, and she's more than old enough to show her siblings the ropes when it comes to being part of such a phenomenal and media-centric family. Blue Ivy's wardrobe continually stuns the public on a daily basis and don't even get me started on all of her poses, which she slays almost as hard as her mother. She's also at the age where she can understand that babies are growing in mommy's belly. So I'm sure she's just as excited to meet them as we are — probably even more so.
This is just the kind of amazing news that we needed — knowing that more of Beyoncé's DNA is about to grace this world. We are so thrilled for them and can't wait to eventually find out if they're having boys, girls, or one of each.