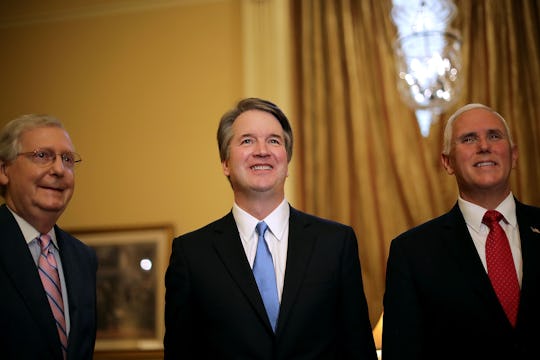 Chip Somodevilla/Getty Images News/Getty Images
Here's Everything You Need To Know About Trump's Controversial SCOTUS Pick
On Monday, President Trump announced his nomination for the Supreme Court Justice to replace Anthony Kennedy, The New York Times reported. Brett Kavanaugh, who is currently a judge, is the top contender for the position, which has lead many to learn more about him. Among the many, many questions floating around is: how old is Brett Kavanaugh? The judge has been pretty transparent when it comes to sharing details about his personal life.
Politico reported that Kavanaugh is 53 years old, and has a lengthy résumé in politics. Formerly an aide to President George W. Bush, Kavanaugh has been an outspoken critic of President Bill Clinton, and has been serving as a judge in D.C. since 2006. The site also reported that Kavanaugh is a graduate of Yale Law School. Heavy.com reported that Kavanaugh's wife, Ashley Kavanaugh, was President George W. Bush's personal secretary, and the couple have two daughters together, Margaret and Liza.
Interestingly, the extent of his family's involvement with politics doesn't end there. The Chicago Sun Times reported that Kavanaugh's mother, Martha Kavanaugh, was a prosecutor and judge in Maryland. During his 2006 Senate confirmation hearing, Kavanaugh said the following about her: "She's instilled in me a commitment to public service and a respect for the rule of law that I've tried to follow throughout my career."
One of the more significant concerns surrounding Kavanaugh's nomination is what his influence will mean for the future of Roe v. Wade, as ThinkProgress reported it's likely he will overturn it. "Anti-abortion activists literally spent the last three decades working towards the moment that came last night. On Monday, Donald Trump nominated Judge Brett Kavanaugh to replace retiring Justice Anthony Kennedy. Kavanaugh will be the fifth vote to kill Roe v. Wade. We know this because Kavanaugh said pretty explicitly that he hates Roe v. Wade," the report said.
However, Kavanaugh has remained adamant that his personal opinions don't impact his legislative rulings. NBC reported that following his nomination on Monday, Kavanaugh told reporters: "My judicial philosophy is straightforward. A judge must be independent and must interpret the law, not make the law." President Trump seemed to agree, as Politico reported he said: "What matters is not a judge's political views but whether they can set aside those views to do what the law and the Constitution require. A judge must be independent and must interpret the law, not make the law."
During his 2006 confirmation, C-Span reported that Kavanaugh refused to share his personal beliefs on issues like abortion, saying that it was irrelevant. "If confirmed to the D.C. Circuit, I would follow Roe v. Wade faithfully and fully," he said. "That would be binding precedent of the court. It's been decided by the Supreme Court."
The Daily Beast reported that despite Democratic concerns for social justice issues and reproductive rights, Kavanaugh has also expressed his support for women having accessible birth control. "The government has a compelling interest in facilitating women's access to contraception," he said, as it is a factor in "reducing the number of unintended pregnancies would further women's health, advance women's personal and professional opportunities, reduce the number of abortions, and help break a cycle of poverty."
It goes without saying there's a lot that's left to be seen. But as far as his age goes, NPR reported that it's somewhat of an advantage. "At 53, he is relatively young," Domenico Montanaro reported for the network. "Trump has said he wants a nominee who could serve on the high court for decades. At age 41, he was the youngest federal circuit judge at the time of his appointment." This means that whether you're in support of Kavanaugh or still skeptical of his motives, if confirmed, he could very well be in office for many years to come.