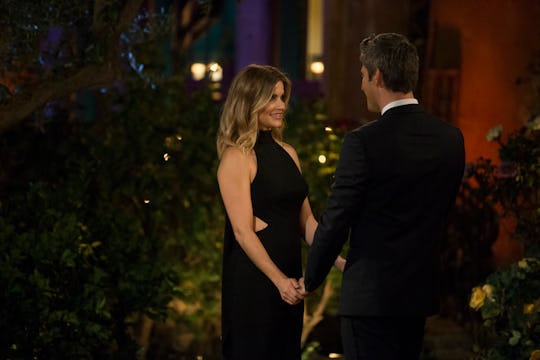 Paul Hebert/ABC
This 'Bachelor' Contestant's Son Is Too Adorable For Words
If there's one good thing about the long, dreary winter months, it's that we get to meet all of the new Bachelor contestants. Season 22 has a ton of interesting women that Arie Luyendyk Jr. will be dating, including a single mom named Chelsea Roy. So how old is Chelsea's son and will Arie be interested in potentially becoming a stepdad?
Luckily, being a mom is not a pitfall for Bachelor and Bachelorette contestants. Although Ben Higgins dumped Amanda Stanton after meeting her two daughters, she made it pretty far, and it didn't seem to be a factor. On Rachel Lindsey's season, Kenny also had a good shot before she realized that she didn't want to keep him away from his daughter any longer. And Arie himself has fallen in love with a single mom before as well. Emily Maynard first appeared on the Bachelorette as the mom of a daughter, who's now 12 years old. With all of the nonsense going on in the world, shipping a single mom winning the Bachelor in 2018 is not a terrible way to go. She's also a safe bet, this season, as Chris Harrison picked her as one of his top five pick this year for Arie.
The 29-year-old is a real estate agent from Maine and has the cutest 3-year-old son from a previous relationship (though she was never married). Once Arie meets this adorable family of two, it's going to be hard to turn down. Also, what 3-year-old doesn't want to hang out with a real life race car driver?
Check Out Chelsea & Her Son
Other than the fact that she's from Maine, loves her son, and that her biggest fear on a date is radio silence, we don't know a lot about Chelsea yet. But it looks like we're going to be getting to know her fairly early on. Arie, 36-years-old, is older than the average Bachelor, and at 29-years-old, Chelsea is one of the older contestants, too. (The eldest is 33-year-old Lauren J.)
It's not that age matters or that women who have kids are somehow more mature or whatever. But the fun-loving Arie is also kind of a serious dude, and it feels like he's looking for something that will really last. That might be easier to find with someone like Chelsea, who seems to have her priorities in check. Harrison said of her in the initial episodes that, Arie, "is very taken by her. But he can tell she's holding back. She has a little bit of a secret. She will reveal it into the show."
The producers should know by now that the internet exists and we all know how to use it, but it's true that word of Chelsea's tot isn't anywhere on the official show pages and just on social media and sites like Reality Steve. So who knows if Chelsea's holding back about having a toddler until she gets to know Arie better or if there's another truth bomb she's going to drop later on in the season.
Which is good, because that was Arie's strategy, too. Take things slow. He told Us Weekly:
I think my game plan was not to lead with chemistry. I think in the past I've done that before and I think as a man it's easy to do that. Also for me, I just really tried to envision how that person would fit into my regular life and if I could fit into their life.
We'll all just have to wait and see whether he felt like he'd fit with Sammy and Chelsea's life in Maine at the end of the season.
Check out Romper's new video series, Romper's Doula Diaries:
Watch full episodes of Romper's Doula Diaries on Facebook Watch.