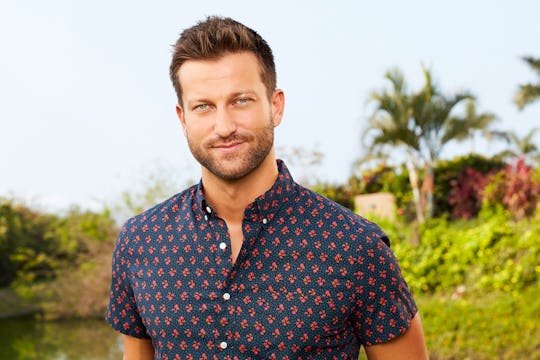 Craig Sjodin/ABC
Chris Bukowski Comes Out Of Retirement For 'BiP' — But How Old Is He Now?
Chris may technically be from Emily Maynard's season of The Bachelorette, but this is his sixth time on the franchise (yes, he holds the record), so he quickly became a target for jokes of the intergenerational persuasion on Bachelor in Paradise. "I was a big fan of yours growing up," Cam quipped in one of his more charming moments on the season premiere, leaving Bachelor Nation wondering how old Chris Bukowski is on this season of Bachelor in Paradise. Worry not, fans; he's technically still a millennial.
Chris first joined the Bachelor franchise in 2012 at age 25, which makes him 32 years old now — not even close to the older age bracket the show creeps into. In the seven years that have transpired since Chris' first appearance, he's returned to the franchise five more times, on various shows. First, he appeared on Bachelor Pad Season 3, the short-lived pre-cursor to BiP. Then he "crashed" Andi Dorfman's season of The Bachelorette trying to charm his way onto the show. (He was promptly escorted out by security.) And finally, he appeared on Bachelor in Paradise Seasons 1 and 2. In 2015, Chris declared that he was "retiring" from reality TV, which, considering the fact that he wasn't even a popular franchise personality, seemed like it was for the best. But now, he's back.
Chris insisted that he was ready to return, having spent the last seven years learning and growing. He even revealed that he had a two-year-long relationship which almost culminated in an engagement, but then ended, leaving Chris yearning for marriage.
"I've learned a lot. I've changed tremendously and that's why I decided to come back and give this another shot," he said in his intro package. "I've really grown my career over the past few years. I have four restaurants, but I haven't found the one."
The Chicago native admitted that watching so many BiP couples get engaged in the time since he's been on the show was inspiring, and he was beginning to feel hopeful again that the process could work out for him. Unfortunately, he's been out of the game for a long time, and he might have done well to brush up on some of the seasons he's missed. He had some trouble remembering his fellow contestants' names and nothing screams "I'm still a jerk" like naming the women in Paradise by their physical attributes. The fact that he struck up a jokey rapport with Cam right off the bat is strike two, to be honest.
None of the women seemed particularly interested in Chris right away, but he did chime when John Paul Jones low-key called dibs on Katie. It wasn't exactly an explicit confession of interest, and Chris may have simply been affirming JPJ's choice. But it does feel like the closest thing viewers have to a promising lead for him at this point. Chris will last at least two weeks on BiP, since the men will be the first to give out roses this season. Whether this is Chris' miracle season remains to be seen.