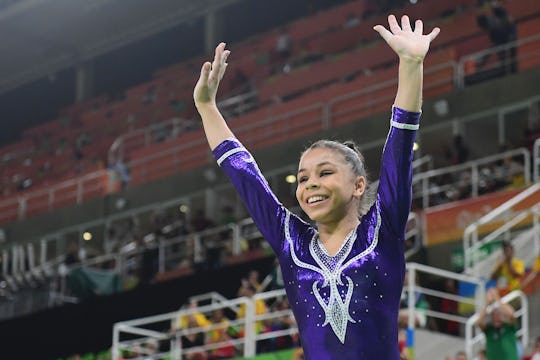 EMMANUEL DUNAND/AFP/Getty Images
How Old Is Flavia Saraiva? The Brazil Gymnast Is So Talented For Her Age
The women's gymnastics at the Rio Olympics are exciting for multiple reasons. For one, you get to watch athletes around the world compete for medals that they've probably always dreamed of. Another reason is because we get to see young women prove us old people (really, I'm not even that much older than them) show me up in all ways physical. One of them being Flavia Saraiva. If you're keeping up with the Olympics — of course you are — you might be wondering how old Flavia Saraiva from Brazil is, and you're not alone. Well, if you're driving a car in the United States right now, you're going to feel majorly old when you hear the answer.
If you're an adult human wondering just how far ahead Saraiva is than you, then do I have some bad news. The extremely talented — tiny — gymnast (seriously, she's small) is only 16-years-old. Yes, you read that correctly. The athlete is only 16, and competing in the Rio Olympics, and I'm almost a decade older than her and still trying to figure out how to plan bathroom breaks during movie theater trips. She is, in a word, winning life at this current moment.
Elle.com called Saraiva a "breakout star" in a profile on her. They report that she started her gymnastics career at the age of nine, which is relatively late for those who usually make an Olympic career out of the sport. You obviously would never be able to tell she hasn't been doing this her entire life, evident during her performance during Thursday's competition. As the announcers said, she is "tiny and mighty" and mighty indeed. At 4 feet 4 inches tall, Saraiva completely wowed audiences at floor routine, as some of the commentators said, she had people in the audience grabbing their phones to capture some of the action, live.
Interestingly enough, The Gymnter reports that Georgette Vidor discovered Saraiva at a social project in Rio, which is a place "where kids that are part of a low-income community can practice sports for free." Pretty incredible that only six years later, the 16-year-old is competing in the Olympics.