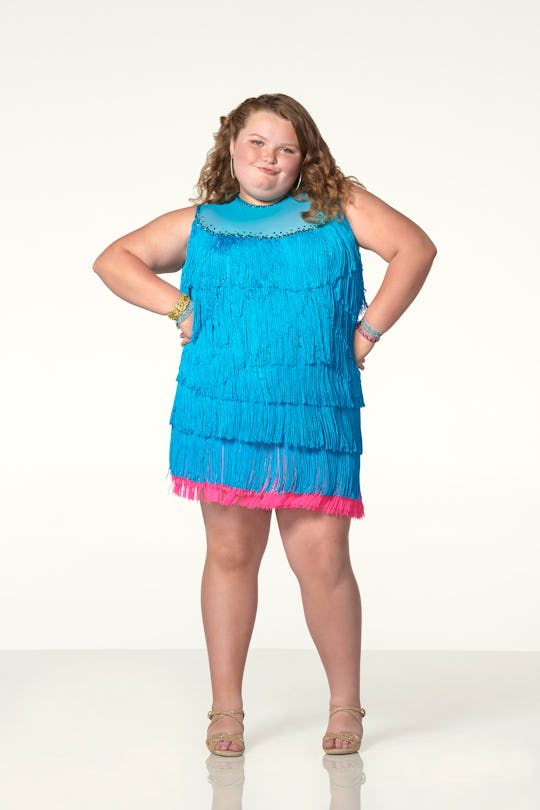 Ed Herrera/ABC
Honey Boo Boo Is All Grown Up & Competing On 'DWTS: Juniors'
It seems like just yesterday that Alana "Honey Boo Boo" Thompson was gracing the pageant stage on Toddlers and Tiaras, but as a contestant on Dancing With the Stars Jr., she's all grown up. Well, kind of. She's obviously not a toddler anymore, so how old is Honey Boo Boo? Dancing With The Stars: Juniors is a brand new experience for her, even if she's no stranger to being on TV. But she definitely isn't a little girl anymore because Honey Boo Boo just turned 13 at the end of August. Feeling old yet?
Her mom, June "Mama June" Shannon posted a video of Honey Boo Boo on Instagram to wish her a happy birthday with the caption, "Ok, I can't believe how fast our kids grow up... my baby...is officially a teenager today! Please show her some Birthday love." Honey Boo Boo's older sister, Jessica Shannon, posted a throwback photo of Honey Boo Boo and wrote, "You're 13 now, you're officially a teenager. Seem like yesterday you were just 5. You have accomplished so much in life so far and I hope you continue on with everything you wanna do and more."
Alana spent the better part of her childhood on TV. After her short stint on Toddlers and Tiaras, Honey Boo Boo and her family were given their own reality TV series, Here Comes Honey Boo Boo. It was cancelled after two years, but not long after, WE tv picked up Mama June: From Not to Hot, where fans have continued to watch Honey Boo Boo and her family.
She recently revealed to People magazine that she already "hit a breaking point" since rehearsals began in August. "Mackenzie Ziegler is on the show and I was like, 'I'm never going to be better than her," Honey Boo Boo admitted. "But I kind of got past it because you don't have to be the best dancer to win. It's not just about being the best dancer. It's about having fun, too."
Overall, she's had an optimistic outlook on the season, despite how intimidating it may have been for her at first. "I thought dancing was going to be the hardest thing ever to learn and to do, but it wasn't as hard as I thought once we got the hang of it," she continued. "If you're going to do something, don't be afraid to do it and just do it!"
Like DWTS, Dancing With the Stars: Juniors will feature pro dancers paired up with the young stars. Only the pros in this show are also kids and each pair gets a mentor from Dancing With the Stars to guide them along the way. The judges panel includes Dancing With the Stars Athletes winner Adam Rippon, which might be reason enough for viewers to tune in. And some of the adult pro mentors are Sasha Farber, Emma Slater, and Artem Chigvintsev.
I don't know if Honey Boo Boo is going to beat out early favorites like Kenzie Zeigler. But I do know that I'm going to have a lot of fun watching her have a blast in the ballroom.