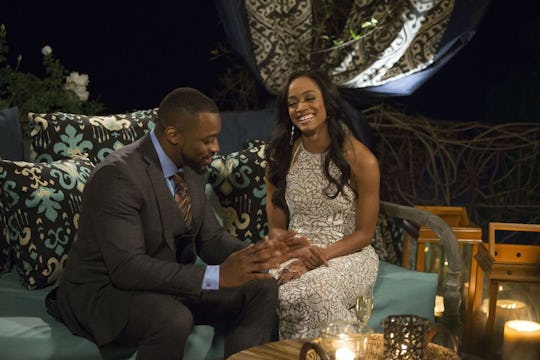 Paul Hebert/ABC
Kenny From 'The Bachelorette' Is Really Close To His Daughter
Fans have officially reached the international vacations stage on Rachel Lindsay's season of The Bachelorette, which must be especially hard on one contest in particular. This season's single dad Kenny is away from his daughter McKenzie, but viewers do see them enjoy a quick video chat while the group is in Oslo, Norway. So how old is Kenny's daughter? As he loves to remind us, "she's 10 but she's not 10."
Incidentally, McKenzie's middle name is Rachel, too! The 10-year-old is apparently going on 32 and is being very mature about her dad's participation in The Bachelorette. Kenny brought up McKenzie in his very first interaction with Rachel at the cocktail party on night one, assuring her that they had a heart-to-heart conversation before he left about what he was going to go do. He revealed that McKenzie was deeply supportive and very much wanted her dad to find a partner who would bring him happiness. And from the few glimpses we've seen of McKenzie on camera, she seems like a totally adorable, bubbly, and self-possessed kid.
According to Kenny's ABC bio, he's super involved in his daughter's life. He described his typical Saturday night as "either wrestling in my underwear in front of thousands of people or at home with my daughter," and when asked to name the person he loves most in the world and why, he replied, "My daughter. She is literally my reason for living. She makes my life better."
Kenny's future with Rachel is uncertain, but if nothing else, he made some friends on the show who seem to be up for getting involved in McKenzie's life. Fellow contestant Iggy, who incidentally went home this week, commented on an Instagram photo of McKenzie at the shooting range with dad, "You know she got like 5 more uncles now..."
Week 5 ended in a cliffhanger of sorts in the middle of Kenny's two-on-one date with his arch nemesis Lee. Their feud has been bubbling to the surface for the past few weeks and it seems Tuesday's episode will finally bring it all to ahead. Based on the promo, it looks like Kenny will take a hit to the face at some point, but it's unclear how it all unfolds. It's a tough spot for Kenny to be in, constantly getting gaslit by this season's clear villain, and I'm sure there's going to be some somber reflection in the Men Tell All special about how Kenny wishes he had acted differently for the sake of his daughter. Stay tuned to see who makes it out of the two-on-one, if anyone, Tuesday, June 27 on The Bachelorette.