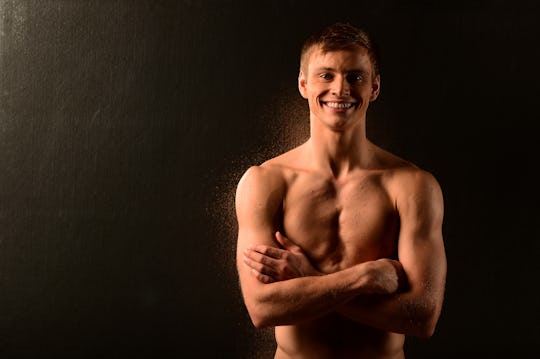 Harry How/Getty Images Sport/Getty Images
How Old Is Steele Johnson? The Diver Is Competing In His First Olympic Games
He's a student, a YouTube star, and he's headed to his first Olympic Games. How old is Steele Johnson? The diver is only 20 years old, but he's already had an incredible career as an athlete.
Johnson was only 7 years old when he started diving, NBC reported. In an interview with Purdue University's Boiler Bytes, Head Diving Coach Adam Soldati said that Johnson showed incredible aptitude for the sport from his earliest years in the pool. Johnson's parents enrolled him in diving lessons when they realized he was progressing into increasingly complicated (and dangerous) dives at the neighborhood pool. In less than two years of diving club, he earned a spot on the national team.
When he was 12, Johnson had a jarring accident: The Indianapolis Star reported that he hit his head on the platform while doing "a reverse 3½ somersault in tuck position." The impact tore a massive gash in his scalp and left him with memory loss he only recently disclosed. He's earned more than 13,000 subscribers and over 2 million views vlogging on YouTube, an activity he picked up in part to help him remember the parts of his life he felt he might forget. Born June 16, 1996, Johnson is only a sophomore at Purdue, according to the Purdue website. Given Johnson's love of making videos, NBC reported that he's studying film.
Johnson may be a first-time Olympian, but he's got a mentor in 2012 Olympic gold medalist David Boudia. The diver competed for Purdue from 2009 to 2011, but according to Boiler Bytes, he's still training at the facility in order to compete alongside Johnson in Rio. The two of them grew up together, carpooling to practice. Now, they're set to compete side by side in the Men's Synchronized 10-meter final on Monday, August 8 at 4 p.m. Eastern Time, NBC reported. Both athletes will also compete for individual medals.
Anyone interested in following Johnson's Olympic journey can check out his YouTube channel for vlogs covering his experience in Rio. He's already posted a video about getting his Team USA gear and gave a brief tour of the Olympic Village. Of course, the most exciting moments will be in competition. To watch him go for the individual medal, tune in to NBC on Friday, August 19 at 4 p.m. Eastern Time for the Men's 10-meter Platform Preliminary Round. The semifinal is Saturday, August 20 at 11 a.m. Eastern Time, and the final is later that same day at 4:30 p.m. Check local listings to determine which channel to watch; it'll be worth it to see Johnson go for the gold.