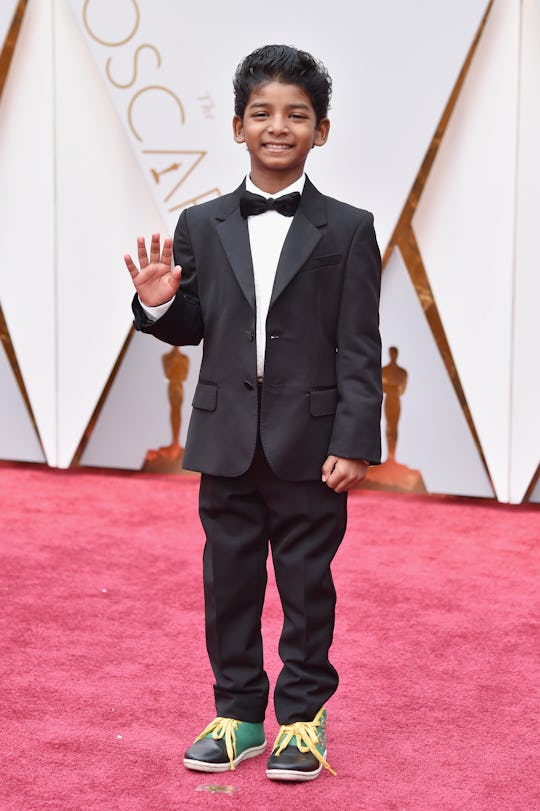 Frazer Harrison/Getty Images Entertainment/Getty Images
Sunny Pawar Owned The Oscars Red Carpet
Sunny Pawar's big smile and incredible presence on the big screen stole hearts everywhere when he made his acting debut in the Academy Award nominated film Lion. The child star is already accomplished beyond his years and walks the red carpet so confidently with cuteness, leading many to ask themselves: How old is Sunny Pawar?
At only 8 years old, the young actor totally owned the 2017 Oscars while rocking his tuxedo with colorful gym shoes on the red carpet. While speaking with Ryan Seacrest on E!'s Live From the Red Carpet, Pawar smiled from ear to ear as he described how exciting this once in a lifetime opportunity has been for him. "He's excited and he feels great about it to be here," his translator told Seacrest on Sunday night, adding that his Lion co-stars had prepped him for the festivities to come.
The young star got his breakout role as young Saroo in the moving drama film Lion, which is about a little boy who gets lost on a train in India that takes him thousands of miles away from home and family. The Australian movie is up for multiple Academy Awards in addition to four Golden Globes nominations and two Screen Actors Guild award nominations.
While the Mumbai native isn't up for any awards this season, he's certainly been the talk of the town and has been grabbing honorable mentions for cutest star of all on the red carpets.
A lot of people, including hilarious power mom Chrissy Teigen, just couldn't handle the cuteness Pawar brought to the Oscars.
The youngster's charm is captivating on the red carpet and even more so on the big screen. In fact, Pawar's personality and talent nabbed him the starring Lion role in a matter of seconds. According to People, Lion director Garth Davis and casting director Kirsty McGregor searched all over India for the right kid to star as Saroo and watched more than 2,000 audition tapes.
"As soon as I saw him, he just felt like the kid that I'd been imagining and feeling, and then we got him into the rehearsal space and I put a camera on him. I just felt like we were watching our movie," Davis told Vulture last December.
Pawar may only be 8 years old, but he's already setting his sights on future acting gigs, telling People he hopes to play a superhero whose powers are "flying and saving human lives."
Whatever the future has in store for Pawar, this child star already has a huge fan following waiting excitedly for whatever his next project might be.