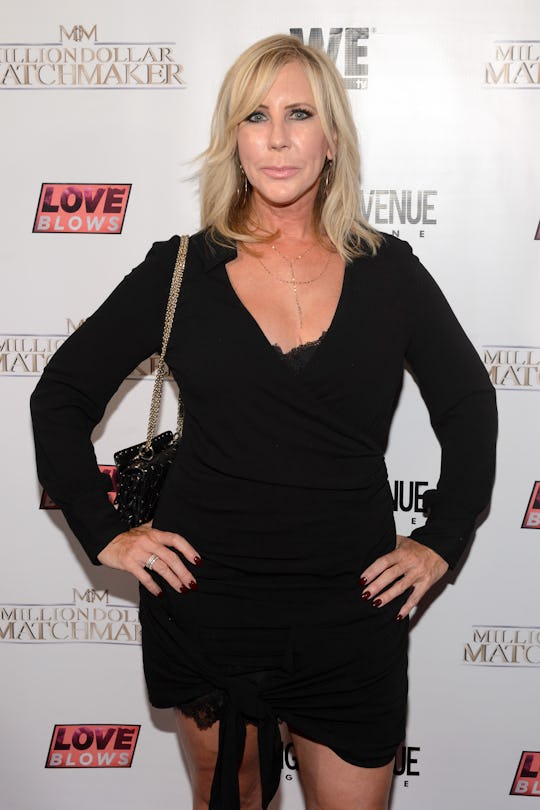 Daniel Boczarski/Getty Images Entertainment/Getty Images
How Old Is 'Real Housewives Of Orange County' Star Vicki Gunvalson?
Real Housewives of Orange County star Vicki Gunvalson is best known as the OG of the OC, a nickname she earned after 13 seasons on the Bravo series. And throughout the past decade (yep, the series has been around since 2006), viewers watched Vicki's style, personal life, and professional career evolve in more ways than one. Vicki, to put it mildly, has accomplished a lot in recent years, a fact that's especially impressive when you consider her fairly young age. So, how old is Vicki Gunvalson? The reality star is just four years away from reaching her milestone 60th birthday.
Vicki, an Aries, was born on March 27th, 1962. If you do the math, that makes Vicki 56 years old, a number that might surprise some fans given her long resumé and role as a grandmother to Troy, 6, and Owen, 4. In short, Vicki has packed a lot of living into her 56 years on this planet.
Over the past few seasons of RHOC, for instance, viewers watched Vicki ditch her questionable boyfriend, Brooks Ayers, for Steve Lodge, a retired police officer, while she moved her insurance company to a bigger location. Things got even more hectic for Vicki when her daughter, 31-year-old Briana Culberson, was hospitalized for lupus complications in April 2018. Luckily, Briana's health is on the mend now, and she receives treatment for her disease at the University of North Carolina Medical Center, where she also works as an Emergency Room trauma nurse.
Although Vicki has handled life's ups and downs, she has struggled with her changing appearance. In fact, Vicki felt pressure to undergo numerous plastic surgeries to slow down the aging process. Vicki shared with Us Weekly:
I had a lot of fillers in my face and I didn't feel like it was me anymore. I had too many doctors, too many different times say 'let's do this, let's do that, let's fill here, let's do Voluma, let's do Sculptra,' and by the time I was done I looked in the mirror and was like 'I don't even look like myself.'
Vicki's loved ones, including Steve and Briana, also expressed reservations about her surgeries. When Vicki proposed the idea of a face-lift, Steve said to her, according to Bravo: "Absolutely not, you look gorgeous the way you are, just grow old gracefully." While Briana told her mom, " ... I don't want you to look pulled. I don't want anything to look different about you."
Despite the concerns about her surgery, Vicki went ahead with the procedure in May. Vicki was thrilled with the results, and she remains "proud" of who she is no matter what the haters might say. It just goes to show each person has their own definition of how to age gracefully, and as Vicki illustrated, there's no wrong or right way to do it.
Following the surgery in May, Vicki traveled to Santorini, Greece, in August to celebrate Steve's 60th birthday. "What an incredible day here in Santorini with @mikegoldsmith, @danigoldenstate and @stevelodge_oc," Vicki captioned an Instagram post from the vacay: "If you have never been, put it on your bucket list. Enjoying the food, wine and the incredible hospitality."
As for Vicki's 60th birthday plans in a few years, they remain unclear. What is obvious, however, is her desire to ring in the next chapter of her life as a married woman. Vicki explained to ET Online:
I'm a marriage girl, I've been married my whole life. So, to be at this awkward stage, at 56 years old, and not being married, it's not comfortable for me. But it's something we don't want to rush and, you know, we just want to take it at our time, so -- it's nice, 'cause we talk about it. It's not me pressuring him or him pressuring me. It's going to be a joint decision and stay tuned. It's gonna be one hell of a fun ride.
"Fun ride," indeed. Vicki has experienced a lot of milestones in her 56 years, and there's a good chance she'll celebrate even more special moments in the years to come. And as any fan of Vicki knows, she's going to embrace these next chapters on her own terms.