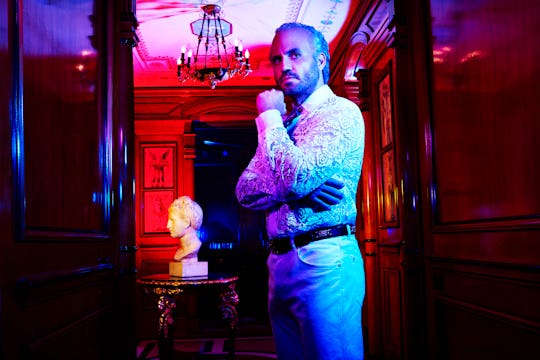 Pari Dukovic/FX
Here's How Old Gianni Versace Was At The Time Of His Death
Before the start of the new year, FX released several mysterious American Crime Story promos for The Assassination of Gianni Versace, amping up the hype factor quite a bit. But when it comes to the case surrounding the fashion icon's death, it's definitely already a source of interest, especially since he was far from old when he was killed outside of his Miami home. So how old was Gianni Versace when he died? American Crime Story Season 2 will focus on his death, but also his life before the tragic shooting in front of his mansion in 1997.
The designer was 50 years old when he was shot by Andrew Cunanan after returning home from a morning walk to buy a newspaper. And while the tragedy of his death certainly came as a great shock, Versace remains as one of the leading fashion powerhouses in the world. At the time of his death, Versace was well known for dressing the most famous and prestigious celebrities, including Princess Diana, Madonna, Elton John, Naomi Campbell, and Elizabeth Hurley. To this day, Versace's name is known all over the world, even to those who aren't in the fashion business or even close to it. So The Assassination of Gianni Versace is set to tell the story of his life and everything that led to his untimely departure from this world.
The season itself is largely based on true events. For example, Versace really was killed by Cunanan, who proceeded to commit suicide eight days later, though his death meant he was never officially convicted of the crime. However, the Versace family remains adamant that they consider the FX mini-series to be a work of fiction and said as much in a statement provided to Entertainment Weekly:
The Versace family has neither authorized nor had any involvement whatsoever in the forthcoming TV series about the death of Mr. Gianni Versace. Since Versace did not authorize the book on which it is partly based nor has it taken part in the writing of the screenplay, this TV series should only be considered as a work of fiction.
FX and 20th Century Fox then released their own follow-up statement in support of the upcoming season of the anthology series:
Like the original American Crime Story series The People vs O.J. Simpson, which was based on Jeffrey Toobin's non-fiction bestseller The Run of His Life, FX's follow-up The Assassination of Gianni Versace is based on Maureen Orth's heavily researched and authenticated non-fiction best-seller Vulgar Favors which examined the true-life crime spree of Andrew Cunanan. We stand by the meticulous reporting of Ms. Orth.
Since then, the Versace family released a second statement about the series, calling it "sad and reprehensible" while also claiming they "neither authorized nor had any involvement whatsoever in the forthcoming TV series about the death of Mr. Gianni Versace, which should only be considered as a work of fiction."
Shortly after his untimely death, many celebrities and designers voiced their reactions to the news that Versace had been shot and killed outside of his own home, proving that the designer was not only a beloved talent, but a dear friend to many. "We were so very close that it's like a large part of my life has died with him. I'm in deep shock at the news — it really hasn't sunk in yet," Elton John said at the time, according to CNN. "I feel so sorry for all of Gianni's family. The world has lost a wonderful creative genius, and I have lost a very dear friend."
The designer Valentino also commented:
Just the other day, I bumped into Gianni in front of the Ritz in Paris. He was laughing, enjoying life and the beautiful things that surrounded him and that were a part of him — an eclectic mix that created the Versace style that will not be easily forgotten. Today, the shock and tragedy of what has happened is overwhelming, and it is hard to believe that he is no longer among us.
Princess Diana even issued her own statement at the time, saying, "I am devastated by the loss of a great and talented man."
Although Versace was only 50 years old when he died, he left behind a lasting legacy that continues to live on in the fashion and business world alike. The FX miniseries will cover the designer's tragic death, but also the life he led before he was murdered.
Check out Romper's new video series, Romper's Doula Diaries:
Watch full episodes of Romper's Doula Diaries on Facebook Watch.