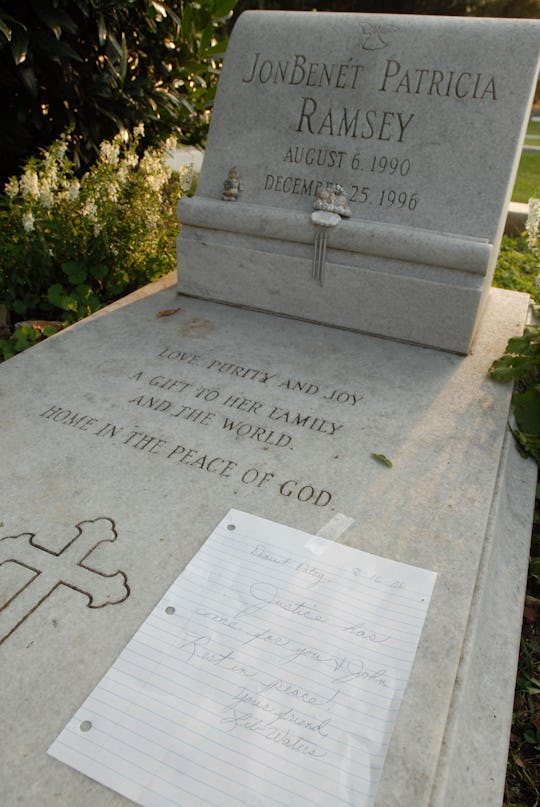 Barry Williams/Getty Images News/Getty Images
How Old Was JonBenet Ramsey When She Died? The Child Victim Was So Young
JonBenét Ramsey's unsolved murder remains twisted and compelling, even 20 years after the fact. On December 26, 1996 the child was found murdered in her family's basement in Boulder, Colorado. The case has wavered in and out of the public eye, even as many now attempt to recall the details of the case, from the initial suspects to how old JonBenét Ramsey was when she died.
The young beauty pageant competitor was 6 years old when she was discovered with duct tape on her mouth and a cord around her neck. Ramsey's parents had found a ransom note asking for $118,000, warning them that "any deviation of ... instructions will result in the immediate execution of [their] daughter." Ramsey's mother, Patsy, called 911 upon finding the note. Her daughter's dead body was found in the basement a few hours later.
This case has been revived time and time again as new theories abound. In 2003, the prime suspects in the murder (Ramsey's mother, father, and older brother) were partially exonerated due to the absence of their DNA on Ramsey's clothing. In 2006, John Mark Karr, a former school teacher, claimed that he "was with JonBenet when she died," but said "her death was an accident." Karr's confession was later found to be false.
In 2008, Ramsey's parents were both completely, legally cleared of any involvement in the death of their daughter. Then, in 2013, grand jury records from a 1999 trial were unsealed which revealed that the jury had "voted to indict both John and Patsy Ramsey, on charges of child abuse resulting in death." The documents do not, however, claim that the Ramseys killed their daughter. Romper reached out to the Ramsey family's representation, but did not hear back at the time of publication.
Investigators will reexamine all of the unsettling details in the docu-series The Case of: JonBenét Ramsey, working bring some closure to a case that remains wide open. The trailer above highlights significant developments in the case from its inception; FBI agent Jim Fitzgerald presses: "This little girl's homicide to this date has been unresolved. In my opinion, I think we can change that."
Investigators have rebuilt the Ramsey's home within a warehouse, recreating the crime scene to scale. Utilizing technologies that were unavailable in the years of her trial, new witnesses and a wide array of specialists will aim to uncover new truths in the case. The six-hour CBS series premieres on Sept. 18 and will air in three installments.
The series seeks what has been sought over the past 20 years: resolution. As suspects have been discounted and rethought, evidence has built over decades. Maybe now it is finally the time to truly put the Ramsey case to rest.