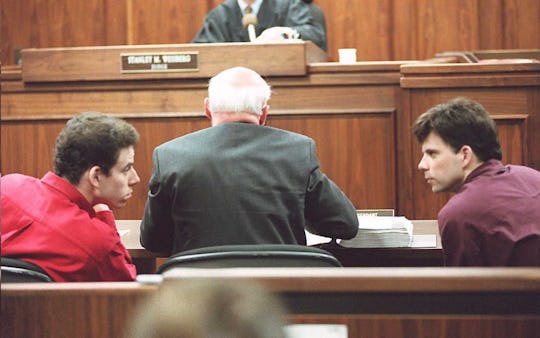 KIM KULISH/AFP/Getty Images
The Menendez Brothers Became Murderers Very Young
When Jose and Kitty Menendez were found dead in their Beverly Hills home on the night of Aug. 20, 1989, the first suspects in the case were in no way their children. It didn't take long, though, for the suspicion to be placed on their sons, Lyle and Erik, but how old were the Menendez brothers when their parents were killed? Erik, the younger of the two, was just 18, while Lyle was 21, still young for the heinous murders of both of their parents. It's been a little more than 27 years since the murders took place and now ABC will be releasing a brand new documentary, Truth and Lies: The Menendez Brothers – American Sons, American Murderers, which will air on Jan. 5 at 9 p.m. EST that will not only revisit the crime, but also feature new interviews with the brothers themselves.
As to be expected, both men initially acted as though they had come upon their parents' bodies unexpectedly, claiming that they had even gone to see a movie earlier in the evening so they could show their ticket stubs as evidence of them not being home. But shortly after their parents' deaths, both Erik and Lyle's wild spending habits began as they worked through not only the $14 million left to them, but also the life insurance policy their father had. So, very quickly, they became more and more suspicious.
According to Vanity Fair, although the police had allegedly suspected the Menendez brothers of murdering their parents, they hadn't seen enough evidence to go on to open an investigation of Lyle and Erik. And the arriving officers had also failed to order the brothers to have gunshot residue tests done in order to see if they had any on their hands or clothing at the time. But, according to the L.A. Times, the brothers took showers in the guest house following the the crime, to wash themselves clean of blood and any other telltale evidence anyway.
Although initially both Lyle and Erik denied having anything to do with the murders of their parents, it was Erik who confessed to the crimes to his psychologist, which proved to be the catalyst to bring the brothers down and have them arrested for the murders. By this time, it had been about six months since their parents' deaths, during which time the prosecutors estimated the brothers' spending to have been around the $1 million mark already. And although they didn't end up be ingsentenced until 1996, the Menendez brothers were still young at the time and are both currently serving life sentences in separate prisons for the remainder of their days.