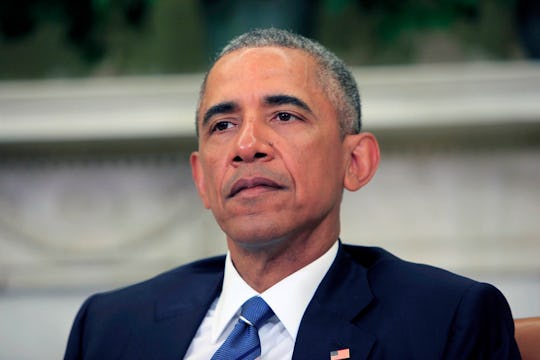 Pool/Getty Images News/Getty Images
How Powerful Is A Presidential Endorsement? It Can Definitely Help Voters Decide
President Obama has finally broken his silence and officially endorsed Democratic 2016 presidential candidate Hillary Clinton. "I don't think there's ever been someone so qualified to hold this office," Obama said in a video for the Clinton campaign on Thursday. It was a historic moment for many reasons. But how powerful is a presidential endorsement and does it normally predict who the next Commander in Chief will be?
Endorsements are generally a pretty good predictor of who will lead the election season and one from the president himself can definitely speak volumes to Democratic voters.
"Party leaders have been paying attention to the candidates for much longer — and much more intensely — than ordinary voters, giving them insight into which ones have the temperament, intelligence and experience to run the country," wrote The New York Times' Lynn Vavreck in 2015. These endorsements from public figures and especially from the sitting president tend to grab plenty of media attention for the respective candidate, which can ultimately lead to an increase in poll numbers as well as help undecided voters get on board with a certain candidate.
"I have seen her judgment, I have seen her toughness, I have seen her commitment to our values up close," Obama said of his experience with the former Secretary of State, in a video published to the Clinton campaign's Facebook page.
Obama's words for Clinton were both strong and enthusiastic, highlighting his past experience with his 2008 Democratic rival. "I'm with her. I'm fired up. And I cannot wait to get out there and campaign for Hillary," Obama said.
Next Wednesday, Obama will appear for the first time with Clinton on her campaign trail in Green Bay, Wisconsin.
"I want to be out there with him and have a chance to campaign with him," Clinton said in an interview with Bloomberg Politics on Thursday. "It just means so much to have a strong, substantive endorsement from the president. Obviously I value his opinion a great deal personally."
Obama's endorsement for Clinton was released just hours after he met with rival Bernie Sanders. According to NBC News, the video had already been recorded on Tuesday.
Despite Obama's endorsement, Sanders has said he will continue his White House bid. But, he also said that he will in fact join Clinton to defeat Republican 2016 presidential candidate Donald Trump.
"I look forward to meeting with (Clinton) in the near future to see how we can work together to defeat Donald Trump and to create a government which represents all of us and not just the 1 percent," Sanders told reporters after his meeting at the White House, according to CNN.
Before the official endorsement hit headlines on Thursday, Obama appeared on The Tonight Show with Jimmy Fallon on Wednesday where he said he is hopeful that the Democratic Party will "pull things together" and he's "worried" about the fate of the Republican party if Trump makes it into the White House.
"The main role I'm going to be playing in this process is to remind the American people that this is a serious job," Obama told Fallon on the importance of the president's role. "You know, this is not reality TV. I've seen the decisions that have to be made and the work that has to be done."
There was very little doubt that Obama would ultimately endorse Clinton and it does carry a lot of weight for Clinton's campaign, gaining more credibility and recognition from the public and media and, in some cases, more support from the voters.
Of course, an endorsement from your next door neighbor or well-known local public figure may mean more to some voters than others. But, history has showed us in the past — for example, former president Bill Clinton's endorsement of Obama in 2008 — that when a president backs a candidate it sends a pretty strong message.